Rasen
(1998)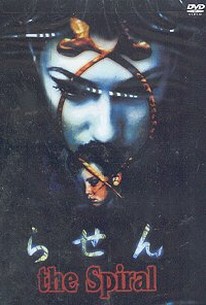 AUDIENCE SCORE
Critic Consensus: No consensus yet.
Movie Info
This sequel to Ringu (1998) begins with Takayama's body being examined by his friend, pathologist Dr. Andou. After he finds a cryptic note in Takayama's stomach, Andou does some investigating and soon learns of a mysterious videotape, haunted by the spirit of a murdered woman. The rumors are that anyone who watches the video will die exactly one week later. Despondent over the death of his own child, and believing that he is being guided by his friend's ghost, Andou decides to see the video for himself. After watching the tape, strange things begin happening around him, and he soon discovers that the tape's restless spirit has different plans in store for him.
Audience Reviews for Rasen
I am not going to say this was fantastic, but it was interesting and took this Ringu series in a different direction. Sadako is more sinister than scary here. I was unaware there were two Ringu 2 films made and this was the failed flop leading to the remake. Honestly it's been some time since I saw the other Ringu 2, so I would like to watch it again before commenting on whether this was valid or not. I did enjoy this. It definitely had it's faults, but as previously stated, it was interesting and I'm glad to have added it to my collection.
Nicki Marie
Super Reviewer
This is the official sequel to "Ringu" as it was based on the actual novel, but it's nowhere near as good or as scary as "Ringu 2". It picks up right up after the end of the first one and takes the story into a different direction which was quite interesting, especially the ending. It just wasn't creepy enough though and "Sadako" isn't the terrifying force she once was in Hideo Nakata's films. It was nice to have an alternate sequel released but it doesn't deliver the thrills and chills that it should.
A sort of original sequel to Ringu, it unfortunately did not impress too much. The film is certainly much more faithful to the book, but this in turn destroys the paranormal elements. Instead of a horror we have a medical science fiction thriller. Too much exposition and explanation destroys the fear of the original. As it turned out Ringu 2 was no bed of roses either and this is a rather fascinating film even if it only excels in failure. Fans of the books or the ever increasing Ring saga should not miss this.
Luke Baldock
Super Reviewer
Rasen Quotes
There are no approved quotes yet for this movie.