Rated X
(2001)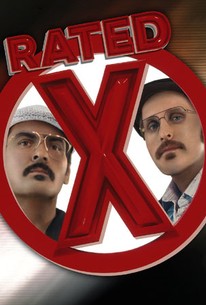 Movie Info
Having created an empire on girly shows and skin flicks, Jim Mitchell and Artie Mitchell achieved mainstream success with Behind the Green Door (1972), one of only a handful of hardcore porn movies to do so. Brothers Emilio Estevez and Charlie Sheen star in the film about the life and troubled times of porn's dynamic duo. Opening with the 1991 fratricidal murder of Artie (Sheen) at the hands of Jim (Estevez, who also directs), the film flashes back to their father lecturing them on the importance of family. In 1967, while studying film at San Francisco State, Jim's professor (Peter Bogdanovich) upbraids him for including numerous leering shots of half-naked women in his student works. Soon Jim along with his brother, fresh out of the Army, starts a smut studio in an old warehouse. Their business takes off, and in no time they are being harassed by the police for obscenity. Along the way, the two hire former Ivory Snow model Marilyn Chambers, get married, and snort half of the cocaine in Bolivia. After the fleeting success of Green Door, their lives spiral into a drug-addled hell. Jim eventually bottoms out, but Artie, wracked by a profound inferiority complex, slides into cocaine dementia and begins to threaten Jim's family. Things eventually boil over, culminating in that bloody night in 1991. This film was screened at the 2000 Sundance Film Festival.
Rating:
R
Genre:
,
Directed By:
Written By:
In Theaters:
On DVD:
Runtime:
Studio:
Showtime Networks Inc.
News & Interviews for Rated X
Critic Reviews for Rated X
Audience Reviews for Rated X
This is by far one of the worst films I have ever seen. The acting was lax and the story line had no punch. There were multiple opportunities for this film to succeed but I dont think it wanted to. I watched the whole film in hopes that Emilio Estevez would break out a "Quack , Quack, Quack..." just so I could justify what I just put my self through.
Jonathan Martin
fantastic!!! i love behind the green door and this is the mitchell bros story of their short rise and hard fall. and its great that real bros played the bros. i loved this movie!!!!!! it makes me want to be a porn director even more than i already do!
Miriam Sierra
Its actually a pretty good movie. Don't let the title fool you, its not really rated x. But real life brothers Sheen and Esteves play the Mitchell brothers who started the porn business. Its not all about sex and it gets pretty interesting toward the end.
Curt _
Discussion Forum
Discuss Rated X on our Movie forum!