RBG
(2018)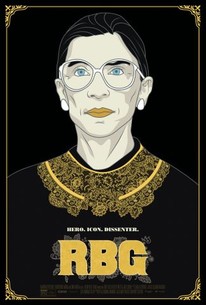 TOMATOMETER
AUDIENCE SCORE
Critic Consensus: RBG might be preaching to the choir of viewers who admire Supreme Court Justice Ruth Bader Ginsberg, but it does so effectively.
Movie Info
At the age of 84, U.S. Supreme Court Justice Ruth Bader Ginsburg has developed a breathtaking legal legacy while becoming an unexpected pop culture icon. But without a definitive Ginsburg biography, the unique personal journey of this diminutive, quiet warrior's rise to the nation's highest court has been largely unknown, even to some of her biggest fans - until now. RBG is a revelatory documentary exploring Ginsburg 's exceptional life and career from Betsy West and Julie Cohen, and co-produced by Storyville Films and CNN Films.
News & Interviews for RBG
Audience Reviews for RBG
½
My 73 year old neighbor and I were both quite underwhelmed by this. Her critique was that, even at 97 minutes, witnessing Ruth Bader Ginsberg's ascension to the supreme court in real life seemed to take less time than watching this movie. I wasn't inclined to disagree, as some sections of this documentary on one of our greatest champions of gender equality almost made me nod off on a full stomach of cold press coffee. I haven't watched a limited release documentary with such production value this bad for quite a few years. Let's get one thing perfectly clear, Ruth Bader Ginsberg is an American hero and one of the few voices of sanity in our government today. Her hard work and cunning in the court has left an indelible mark on our legal (and thus political) landscape, but watching the rejected editing staff of Buzzfeed usher her as the "Notorius R.B.G." into meme world reminds me too much of Bill and Ted introducing Napoleon to ice cream. I get that Julie Cohen and Betsy West need to find a way to incentivize younger audiences to be engaged with Bader Ginsberg's legacy, but by the end it comes off as superficial and hollow. It doesn't help that we have esteemed character witnesses Bill Clinton and Antonin Scalia attesting to her greatness. When you get down to it, Ruth Bader Ginsberg is not a terribly interesting subject. She's led a life of highly restrained conflict, incremental accomplishment, and due professional respect. She made a very normal nuclear family, exceptional mostly for her grindstone work ethic that helped her through the fledgling years after college, her first child, and her husband's battle with cancer. After the five minutes covering that time period, the rest of her life doesn't make for riveting cinema, especially when the most compelling focus subsequent to this is courtroom oration on landmark cases. The film ultimately becomes unfocused, vacillating between her enjoyment of opera and how American politics has declined around her in the past few decades, then stuff about her family, then her watching SNL, and a paralegal sorority girl talks about getting RBG "merch". Just read her Wikipedia page, and spare yourself the almost parodical banality.
K Nife Churchkey
Super Reviewer
RBG Quotes
There are no approved quotes yet for this movie.