The Reading Room
(2005)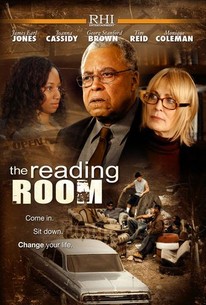 AUDIENCE SCORE
Critic Consensus: No consensus yet.
Movie Info
After the death of his beloved wife, Helen (Lynne Moody), wealthy African-American suburbanite William Campbell (James Earl Jones) finds that Helen has left behind a "living will" in the form of a videotape. As William watches the video, his late wife urges him to take his huge personal library down to the tough inner-city neighborhood and to establish a reading room. Though confused by this request, William does exactly that, only to find that none of his new neighbors seem inclined to read -- not until he posts a sign reading FREE SODA. Ever so slowly, a few "regulars" trickle into the reading room, among them an idealistic young special-ed teacher (Joanna Cassidy), a high-schooler (Keith Robinson) studying for his SATS, and a little girl (Gabby Soleil) who hopes to get her mother to learn to read. For the most part, however, William's little sanctuary is the target of break-ins and the hangout for local gang members, and with this in mind it isn't surprising that several people encourage him to pack up and get out -- none more adamantly than the Reverend Rashid Rahim (played by George Stanford Brown, the film's director), a self-appointed urban activist who perceives in William a threat to his supremacy. Eventually, whether or not William stays or goes boils down to his attempt at "redeeming" a youthful thief named Javier (Douglas Spain) -- and it is at this point in the narrative that William finally understands why Helen wanted him to open up the reading room in the first place. Filmed with the endorsement of the National Center for Family Literacy, The Reading Room was produced for cable's Hallmark Channel, where it first aired on November 26, 2005.
Critic Reviews for The Reading Room
There are no critic reviews yet for The Reading Room. Keep checking Rotten Tomatoes for updates!
Audience Reviews for The Reading Room
A made for tv movie that's very well done. This is a very touching, and heart warming drama that I very much enjoyed. James Earl Jones is a very fine actor, and this movie really excells because of him.
Cynthia S.
Super Reviewer
Definitely a made-for TV movie. I think the writers glossed over how difficult it is to recover after a fire but it was still an uplifting movie.
The Reading Room Quotes
There are no approved quotes yet for this movie.