The Reading Room
(2005)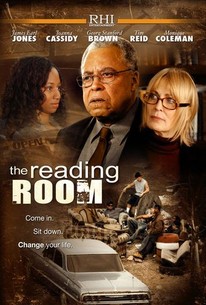 AUDIENCE SCORE
Critic Consensus: No consensus yet.
The Reading Room Videos
The Reading Room Photos
Movie Info
After the death of his beloved wife, Helen (Lynne Moody), wealthy African-American suburbanite William Campbell (James Earl Jones) finds that Helen has left behind a "living will" in the form of a videotape. As William watches the video, his late wife urges him to take his huge personal library down to the tough inner-city neighborhood and to establish a reading room. Though confused by this request, William does exactly that, only to find that none of his new neighbors seem inclined to read -- not until he posts a sign reading FREE SODA. Ever so slowly, a few "regulars" trickle into the reading room, among them an idealistic young special-ed teacher (Joanna Cassidy), a high-schooler (Keith Robinson) studying for his SATS, and a little girl (Gabby Soleil) who hopes to get her mother to learn to read. For the most part, however, William's little sanctuary is the target of break-ins and the hangout for local gang members, and with this in mind it isn't surprising that several people encourage him to pack up and get out -- none more adamantly than the Reverend Rashid Rahim (played by George Stanford Brown, the film's director), a self-appointed urban activist who perceives in William a threat to his supremacy. Eventually, whether or not William stays or goes boils down to his attempt at "redeeming" a youthful thief named Javier (Douglas Spain) -- and it is at this point in the narrative that William finally understands why Helen wanted him to open up the reading room in the first place. Filmed with the endorsement of the National Center for Family Literacy, The Reading Room was produced for cable's Hallmark Channel, where it first aired on November 26, 2005.
Rating:
PG
Genre:
,
Directed By:
Written By:
In Theaters:
On DVD:
Runtime:
Studio:
MTI Home Video
Cast
Critic Reviews for The Reading Room
All Critics (0) | Fresh (0) | Rotten (0) | DVD (1)

Audience Reviews for The Reading Room
A made for tv movie that's very well done. This is a very touching, and heart warming drama that I very much enjoyed. James Earl Jones is a very fine actor, and this movie really excells because of him.
Cynthia S.
Super Reviewer
Very slow, but worthwhile film dealing with reading and other disabilities in supposedly Los Angeles. This must be the most naive person in the world (Jones) as he fulfills his dead wife's request to pass along their library to the streets of LA. Very true to form, the Reading Room, as it is called, is burned out once and despised by local preachers, gangs, and mothers. But to everyone's surprise, it ends in HallMark Hall of Fame wonderfulness. If you love sappy movies, this one takes the cake. If you love deeply moving movies, this one also takes the cake. Two thumbs up for The Reading Room.
monsieur rick
Sure, as a teacher, I am always going to be touched by quality films regarding instructors who truly change the lives of their students (eg, "Stand and Deliver," "Emperor's Club"). But this Hallmark-for-TV production is little more than cliches and wishful make-me-feel-good thinking. James Earl Jones is a widower (with endless financial resources) who decides to open a small study room filled with books down in the ghetto. Amazingly kids just start drifting in begging for his books and help, as if the school libraries and public libraries just didn't exist. Jones plays the stoic trooper when all the predictable dark clouds begin to gather - in the form of resentful street thugs, hostile community activists and bureaucratic principals. Somehow the viewer is supposed to be impressed when Jones removes the security gates from his windows and the place is robbed that same night. And be impressed when he tools downtown in his $90,000 Mercedes every morning until he gets jacked at gunpoint, then trots right down to the used car lot to buy himself a $500 beater for the commute. Rather than impress, however, Jones just comes off the naive idiot. Without Jones' talent it would have played out on screen even uglier. Eventually Jones starts arguing that some students should have all the time they want to complete the SAT - which would neutralize it as any fair/equitable measure of student accomplishment. Someone should tell Jones the kids he's helping won't be able to move up in life through a good college placement - if there is no fair way to distinguish what they've achieved. That's when I lunged for the eject button. RECOMMENDATION: There's plenty of good films about teaching that will inspire and inform; this DVD is better used as a coffee table coaster.
TonyPolito Polito
Discussion Forum
Discuss The Reading Room on our Movie forum!
News & Features