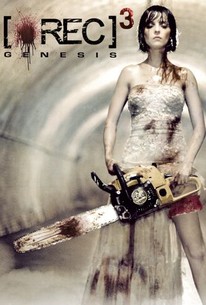 Rec 3: Genesis
2012, Horror/Mystery & thriller, 1h 19m
49 Reviews
5,000+ Ratings
What to know
critics consensus
[REC] 3 Genesis discards the handheld POV of its predecessors and loses the franchise's fresh perspective in the bargain, upping the gags and gore to the detriment of the chills that audiences crave. Read critic reviews
Where to watch
Subscription
Rate And Review
Movie Info
Newlyweds (Leticia Dolera, Diego Martín) watch their wedding reception descend into chaos and carnage when their guests become infected by a virus that turns them into hungry zombies.
News & Interviews for Rec 3: Genesis
Audience Reviews for Rec 3: Genesis
After [REC] 1 and 2 will go down in horror history Genesis wont, First off it has little to do with the first two I suppose it's kind of a prequel, But it felt like a cheap spin off, It starts by using the found footage effect for about 25 minutes where very little happens then all of a sudden when we finally get to the main story it switches to normal filming mode that straight away feels wrong, It felt more like a Dawn Of The Dead film with some silly bits thrown in, The only thing that makes this film a [REC] movie is the title, It's not a terrible film just a terrible entry to one of the best horror franchises ever.

I really liked [Rec]. It was one of the first films I'd seen using the handheld style to good effect and the film was genuinely scary. I haven't seen [Rec]2 yet but I know that it follows on directly from the original. This, however, is a different story and although it sacrifices the hand-held concept halfway through (a little prematurely in my opinion) this is still an effective scare machine. It also brings a bit of humour to the proceedings, especially with the groom running around with armour and a sword pretending to be St George. At just under 1.5 hours it flies by and although there isn't much we haven't seen before it's a fun little film. Good ending too.

[Rec] 3: Genesis will appeal more to fans of grindhouse horror more so than fans of the first two [Rec] films. The reason for this is because director Paco Plaza has completely changed the tone. He eschews the found footage style 30 minutes in for the more traditional aesthetic. Where its predecessors relied on atmosphere, this one relies on gore. Where the first two films built fear and suspense, [Rec] 3 offers B-movie action, humour, and romance. It does tie in with the previous two, but it also introduces completely new characters. I liked the main wedding couple, Koldo and Clara. I cheered when Clara gets fed up with her wedding party guests attacking her as zombies and whips out the chainsaw in her dress. I love how Koldo frantically searches for Clara dressed as a knight in shining armor (the metal protects him from bites). It certainly has its moments as mindless bloody fun. But for a franchise that was so legitimately scary, this feels like a step back, as its really a [Rec] film in name only.

Considering that the first two Rec films were refreshing horror films in the documentary/found footage genre, this third entry lacks substance and visceral punch that have made the first films standout in the horror game in the last few years. This entry on the other hand just leaves fans wanting more, and the film relies on previously explored shocks that we've seen before, therefore the film becomes routine, and a bit tiresome. I was really looking forward to watching the film, but it didn't grab my attention like the first two did. I think it's a great shame because among the more modern horror films, Rec was something unique, refreshing and genuinely frightening, but here, we come to know how things will play out, and it feels overdone, and not worth your time. Rec 3 is a mediocre film, one that can only appeal to the most diehard genre fans, and even then, they'll feel as if the film lacked in delivery. There could have been many ways how the film could have turned out, many ideas that haven't been explored. Unfortunately, we get a film that just tries to do the same thing again, and in doing so, we lose interest in enjoying the film. Rec 3 had the potential of being a fine third entry in the trilogy, and it could really have stood out among the other two, but this one just goes to show that the screenwriters are running out of good ideas for an effective, shocking and thrilling horror picture. If you're expecting something like the first two films in the series, you'll be disappointed, and I'm saying this as someone who greatly enjoyed those films. This film does have gory moments and a few minor thrills, but it ends up being too little too late, and the rest of the film is quite mediocre because, the film doesn't try to do anything really exciting, and the material is more of the same, and in the case of films like this, it doesn't work.
See Details