[REC] 4: Apocalypse
(2015)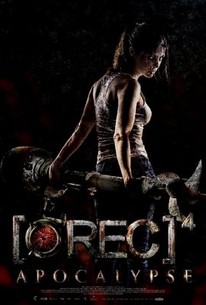 [REC] 4: Apocalypse Photos
Movie Info
Angela Vidal wakes up in a high-security quarantine facility, sole survivor and witness to the horrific events inside the building. But does she remember what happened to her? Is she carrying the virus? Distrust spreads through the isolated facility while new, even more deadly forms of evil spread even faster. (C) Magnolia Pictures/Magnet Releasing
News & Interviews for [REC] 4: Apocalypse
Critic Reviews for [REC] 4: Apocalypse
Audience Reviews for [REC] 4: Apocalypse
After [REC] 3 was a huge letdown for so many reasons the fourth part should of gone back to its roots but it doesn't and the found footage effect is completley cut out all together, It was good they carried on the main story but the film itself felt like another cheap zombie flick with literally no scares what so ever, It was better than number 3 but only just though, Apart from one good twist there's not much to go on, [REC] franchise deserved a much better ending than this cheap cop out.
Jamie Clarke
Super Reviewer
½
I would like to make it known that the original [Rec] would rate very highly, as in top 3 if not the top spot, as one of my favorite horror movies of the last decade. Not only that, if I had to place it in my favorite horror movies of all time, it would place in the top 5, at the very least. The second movie, while a step down, was still a very strong sequel that brought a whole new unexpected element to the narrative. The third film, another step down, was completely different than what we had seen from the franchise. It certainly embraced a comically dark tone than the first two films. It was this series' attempts to do something similar to Evil Dead 2. Of course it wasn't as good as Evil Dead 2, but at least it tried something different. While I wouldn't call it good, it was a fairly average and somewhat entertaining film, in spite of all of its faults and its deviations from its own tropes. This brings us to the fourth and, theoretically, last film in the franchise, which brings us back full circle as the story started in the first two films wraps up. They also make reference to the third film, but they keep that to a minimum. With that said, and I thought this was a better movie than [Rec] 3, mostly because of the fact that it doesn't feel like a distraction from the original narrative put forward by the first two movies. It also retains the series' darker tone, narrative and claustrophobic setting. What it does get rid off is the found footage style and, with the story they were telling it makes perfect sense. Plus, I believe that the filmmakers are smart enough to know that the bloom is absolutely off the rose with this genre. At least for some people. Saying it's a terrible subgenre that can't be used effectively is really short-sighted. If I see a bad slasher does that then mean that all slashes are terrible and that none of them can work? Absolutely not because that would be stupid. Same thing with found footage, if people use it correctly, like this crew did TWO times in a row, it can work to perfection. But the story didn't need it anyway, it wasn't part of a story for a news show or anything of the sort. With that said, while this is a somewhat appropriate way to end the franchise, it's also a somewhat a weak send-off. The idea behind it is appropriate, maybe not so much in execution. While it brings back the lead from the first two films and, probably, most of the same crew, this really bears nothing in comparison to the first two movies. All it shares is the same name. I just think that this is more of an action movie with horror elements than the other way around. It's clearly not as bad as the Resident Evil film franchise, but the effective horror scares just aren't there. While the first film did have a good amount of gore, it also knew how to build up tension and give you a good amount of legitimate scares, and not just jump scares. So that combination is sorely missed here. It just ends up feeling like a regular movie as opposed to the end of the franchise. There's nothing really definitive here. It purports to be, but the post-credits scene makes it look like it'll keep going in some way. I don't really know, but there was something really missing here. I don't wanna be one of these people that demands that it's all the same as it was before. I realize that that's unrealistic to expect. And that's not even what I want as I realize that it can be very creatively stagnant to try and make the same film you already made twice before. That's why I think the third film was so different, and a welcome addition even if it wasn't great. I think they were just trying to stay one step ahead of the game and avoid burning themselves out with making the same movie three times in a row. But you can still make it different stylistically, perhaps not thematically, while borrowing elements of what made the first two movies, particularly the first one, so great. It's ironic in a way because I remember reviewing Quarantine 2, which is the sequel to [Rec]'s remake. I remember saying, and I've said it since then, that it felt like they just took a generic script, changed some elements to tie to the first film, in a small, way and made it into a sequel. That's exactly how this feels like to be honest. It's actually a considerably better version, since this movie is better than Quarantine 2 ever thought of being. But it still feels like they took a script, made some changes, cast the same lead actress, gave the [Rec 4] and told us that it was an official sequel. The big difference is that this film was actually made by one of the original directors and screenwriters of the first movie. Paco Plaza, the other director and screenwriter, directed the third film on his own. It's a sequel to the franchise in name only and some of the narrative elements, certainly not in tone. But this movie, while poorly paced, does end up having a pretty solid climax. It lacks tension, as does the entire film really, but at least it's somewhat fun to watch. The gore is good. There's a lot of action, not like Hollywood-esque, there's just a more emphasis on that than there is on the horror. And that's a real shame to me. It just doesn't know how to effectively build scares. Not that I think it was intended to honestly. The acting is pretty good all things considered. Manuela Velasco is definitely a more than welcome return, she brings the whole thing full circle. The rest of the cast is fairly solid. But since this is a horror movie focused on the action and gore, there's not a whole lot of character-development done here. It's all the typical virus bullshit you've ever seen in any horror movie that has a virus at the center of its narrative. With that said, in some ways this is a worthy sequel, but in far more ways it's also a very flat way to end the franchise. It actually makes me want to watch the original film again. I want to see it, like, really bad. To the point I'm probably very likely to buy it on DVD, which I'm surprised I haven't done before. Hardcore [Rec] fans will probably enjoy this film regardless, but everyone else can honestly stay away. There's honestly nothing here that you haven't seen done elsewhere in a far more enjoyable package. Like, I don't know, Dead Snow 2. However this is still average and fun for a weekend rental if you've got nothing better to do.
Jesse Ortega
Super Reviewer
½
The highly anticipated horror franchise is back. [Rec] 4 is a sequel to the second film in the series ([Rec] 3 was parallel to the first film), Angela is rescued and brought to a research facility on a ship. However, Angela also carried the diseased with her and they are gonna need all the help to develop a serum to cure the epidemic. Initially disappointed, it does not have the found footage style anymore and characters seemed dull but it picked up the pace quickly after the infection began again. The twist was quite nice, I did not see it coming at all. And the fight scenes were nicely filmed. It does have some problems with the script and repetitive use of stock footage from earlier films. [Rec] 4 is a neat conclusion to the beloved franchise.
Sylvester Kuo
Super Reviewer
[REC] 4: Apocalypse Quotes
There are no approved quotes yet for this movie.