Reckless
(1935)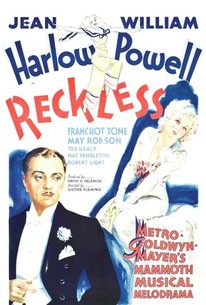 AUDIENCE SCORE
Critic Consensus: No consensus yet.
Movie Info
Reckless is a delightfully breezy screwball comedy from the same director (Victor Fleming) and star (Jean Harlow) responsible for the celebratedBombshell (itself a film à clef loosely based on Clara Bow) -- with the added appeal of William Powell. One can readily see the chemistry between the two stars at work, which would lead to their impending marriage at the time of Harlow's death a year later. The sets for the Broadway number that Harlow's Mona Leslie performs in are also extraordinary. Mona Leslie (Jean Harlow) is an up-and-coming Broadway actress, dancer, and singer, who leads a happy-go-lucky, freewheeling lifestyle; bailed out of jail by family friend Ned Riley (William Powell), a sports promoter who loves Mona but won't slow down his lifestyle long enough to give her the satisfaction of admitting it, she performs in a bizarre "benefit" show, only to discover that she has an audience of one, wealthy admirer Bob Harrison (Franchot Tone). He declares his love for her and a romance does develop, but when he proposes marriage, he discovers that his upper-crust set won't accept a showgirl as one of their blue-blood crowd. Their romance leads to a marriage and desperate unhappiness for all concerned, most of all Harrison, whose basic neurotic nature gets worse as the marriage deteriorates. When Harrison takes his own life, Riley and Mona find themselves accused of every foul deed possible, and when Mona gives birth to a son, a legal battle ensues over custody of the child, with Harrison's family claiming that she is unfit. Finally, Mona decides to fight back -- she gets Harrison's family to stand down by giving up any claim to her late husband's money, but she must now contend with the nation's self-appointed moral guardians. No producer will take the risk of backing a show with Mona in it, but she finally gets a helping hand from Ned Riley. The movie has a few too many changes in tone, which detracts from the verisimilitude. The whole story is a film à clef based on the tragic romance between torch singer Libby Holman and tobacco heir Smith Reynolds (which also provided fodder for such à clef films as Brief Moment, Sing, Sinner, Sing, and Written on the Wind) -- and Harlow's singing is obviously dubbed, just as her dancing is doubled. Also, the songs -- except for the final two numbers -- don't quite fit with the melodrama, and the Damon Runyon-esque comic antics feel completely out of left field at times. But when she and Powell are onscreen together, the film just lofts into the air, past all of those flaws.
Critic Reviews for Reckless
Audience Reviews for Reckless
William Powell is delightful, Jean Harlow is warm and vulnerable, Rosalind Russell is charming, and even Franchot Tone, who plays a millionaire playboy who jilts Russell for Harlow without truly knowing his own mind, is witty. The dialog, particularly in the first half of the movie, is light and amusing, and there are a couple of nice musical numbers. It gets a little fast paced and soap operatic towards the end, but it's always entertaining. This is the film that got Powell and Harlow together personally for the last two years of her life, and their chemistry shows. The early scene with them lounging together and him proposing in his own way as she drowses off is fantastic, and Powell's scenes with the old granny are also priceless. It's also fun to see a young Mickey Rooney in a couple of scenes. Not perfect but watch this one for the cast and their performances.
Antonius Block
Super Reviewer
Even with big stars and an expensive production with songs by Jerome Kern and Oscar Hammerstein this is a minor film reworking of the Libby Holman tragedy. Powell is fine but in the background as is Roz in an early film where she is still in her grand lady phase. Jean does what she can in a part that for which she is hopeless ill suited. She does fine in the dramatic portions and is snappy at the beginning but she was no singer and is obviously dubbed. As a dancer well...she was a fine comedienne.
½
A film that starts off as a musical/comedy and ends up more of a drama. Ned (Powell) and Mona (Harlow) are lifetime friends who are sort of a couple, but Ned won't commit. A suave millionaire, played by Franchot Tone, sweeps her away and marries her; but the marriage is doomed due to the disapproval of his high society family. Tone, who does an excellent job playing the unhappy, rich, playboy Harrison, ends of killing himself. This is where the drama starts. Mona, who is pregnant, ends up being shunned for suspected murder of Harrison. The climatic conclusion really is a tearjerker. Powell and Harlow both are so incredible in their final scenes. I've never seen a Powell performance quite like this. He also does really well with Rabson, playing granny, as they are quite fun and play off each other well. Yes, the movie switches gear from being somewhat lighthearted to melodramatic, but it just makes it feel more life-like. Apparently, this was inspired by a true story.
nefnie lee
Super Reviewer
Reckless Quotes
There are no approved quotes yet for this movie.