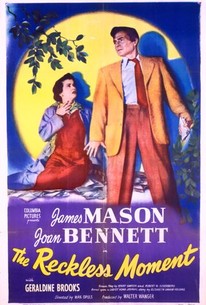 The Reckless Moment
1949, Mystery & thriller/Drama, 1h 22m
4 Reviews
500+ Ratings
Rate And Review
The Reckless Moment Photos
Movie Info
While fighting with girlfriend Bea Harper (Geraldine Brooks), Ted Darby (Shepperd Strudwick) takes a spill that leads to his death. Desperate to keep her daughter out of jail, Bea's mother, Lucia (Joan Bennett), disposes of the body. Meanwhile, Lucia's suspicions that Ted had sleazy friends are confirmed when gangster Martin Donnelly (James Mason) materializes with the intention of extorting cash from the Darbys. Yet when Martin and Lucia grow increasingly close, the scheme starts to splinter.
Audience Reviews for The Reckless Moment
An interesting bit of 1950s style overwrought melodrama as a teen gets mixed up in a murder and her mother (Joan Bennett) is therefore forced to some decidedly underhanded work to keep scandal at bay. A smooth blackmailer gets involved forthwith (James Mason with a credible Irish brogue) and what soon develops is an under-the-table romance, only hinted at. She gets a break from the all too intrusive family life and he gets a touch of the decent side of the tracks. Filmed in many Newport Beach locations this stew makes it abundantly clear how constricting "normal family life" can be.

Some obvious Hayes Code constraints keep this film from being meaner and more twisted, but all in all, not a bad story about a mother trying to keep her family's respectable name out of the muck when her reckless daughter gets in involved with a hustler, and attracts a blackmailer (James Mason glows in this role.) Credible, well-structured, and well-conceived, The Reckless Moment is a cut above the usual fare.

The last of director Max Ophüls' Hollywood films, The Reckless Moment doesn't necessarily distinguish itself other than Joan Bennett's intense performance. It's actually a rather unconventional film noir starring Bennett as the well-to-do mother of a teenage daughter who's gotten herself mixed up with the wrong sort of man. The mother goes to confront this man and he offers to stop seeing the girl in exchange for a payoff. When he comes snooping around late one night, the daughter rejects him physically, and the man winds up dead. Desperate to keep her daughter out of trouble, the mother covers up the any evidence the dead man was ever there and and dumps his body off somewhere else. Soon afterward, a blackmailer (James Mason) enters the picture, threatening to expose the girl's love letters to the deceased man if he's not given $5000. In spite of a somewhat ridiculous storyline, Bennett shines as the no-nonsense, unbending woman who fights to protect the cozy home she's created. The father is completely out of the picture, of course, and it's up to the strong mother figure to keep this structure of civility from crashing down around their ears. James Mason as the charming villain meets the only end he can possibly meet within the film's circumstances. It's a shame for such a strong woman to have to go without the love of a man. Duty tells her to remain faithful to the disembodied voice over the telephone, rather than run off with the charming and dangerously foreign blackmailer, but standards and morals of the 1940s dictates this more forcibly than the heart does.

Taut drama with the always underrated Joan Bennett great as the panicked mother and James Mason just right as the conflicted anti-hero. Wonderfully directed by Ophuls and atmospherically shot this was updated as The Deep End with Tilda Swinton also a fine film but this has a distinct allure of its own.
See Details