The Red Badge of Courage
(1951)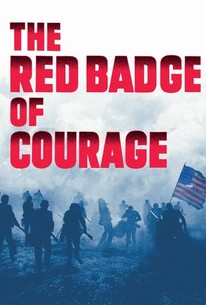 The Red Badge of Courage Photos
Movie Info
In this film, based on Stephen Crane's novel, Audie Murphy stars as a Civil War soldier who must redeem himself after an act of cowardice. When he gets his opportunity, he is no less frightened than before; he simply has learned to push on in spite of that fear.
Critic Reviews for The Red Badge of Courage
Audience Reviews for The Red Badge of Courage
In spite of the studio's blasphemous 'recut' of John Huston's work, The Red Badge of Courage successfully illuminates the fragile psyche of the foot soldier in harm's way. Audie Murphy, given his own combat experience, seems perfectly cast as the civil war private battling fear and self-doubt while serving in a union regiment. Like the source material from which it sprang, this film is a study in humanity and man's astonishing ability to persevere.
Randy Tippy
Super Reviewer
For 1951 it was a pretty great movie. It had a great behind it, and got it acrossed well. I felt it ended a little suddenly, and to me it seemed like there seemed to be something missing, though im not sure what, but overall, it was a film , for any civil war buff, too see.
Bobby Hobbs
Super Reviewer
½
Heavily scissored by the studio, it's distressing to think how good Huston's Civil War flick could have been. It has some truly gorgeous visuals, in particular the close-ups of the young soldiers facing their first taste of warfare and the shot of the sunlight breaking through in shafts through the trees. The decision to keep the novel's anonymous characters (the film is adapted from a Stephen Crane novel), pays off, adding to the sense of alienation in combat (they are referred to in adjective titles, ie: 'The Tattered Man', 'The Tall Soldier'). Murphy also convinces as a young lad staring death in the face, and his eventual defiance in not letting the flags touch the ground makes for some striking cinematography, irregardless of your stance on war. Sadly, this would-be great was truncated down to just over an hour's worth of footage, making it a frustrating experience. In doing so, the audience feels a little short-changed by Murphy getting over his demons in about fifty minutes, the same effect as watching the regular cut of Apocalypse Now after one has grown accustomed to the full nightmare of Redux. What could have been....
Antony Stubbs
Super Reviewer
The Red Badge of Courage Quotes
There are no approved quotes yet for this movie.