Red Desert
(1964)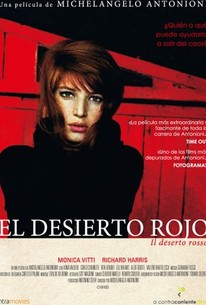 Movie Info
Red Desert (Il Deserto Rosso) once more combines the considerable talents of director Michelangelo Antonioni and star Monica Vitti. Cast as Giuliana, an unhappy wife, Vitti suffers from an unnamed form of depression and malaise. Her quicksilver emotional shifts disturb everyone around her, but they, like she, pretend that nothing is truly wrong. British engineer Corrado Zeller (Richard Harris) seems to understand what Giuliana is really after in life, and he acts upon it by entering into an affair with the troubled woman. Giuliana eventually comes to terms with her physical and mental pain, but this hardly means that she's "cured" in the conventional sense. Monica Vitti's sense of isolation is heightened by Antonioni's (and cinematographer Carlo DiPalma's) choice of colors, and especially by Carlo Savina's bizarre electronic musical score. This is a landmark movie in Antonioni's effort to portray alienated individuals in contemporary life; he places people against towering forms of technology to emphasize their smallness and lostness in the modern world of technological change. ~ Hal Erickson, Rovi
News & Interviews for Red Desert
Critic Reviews for Red Desert
Audience Reviews for Red Desert
½
Antonioni impresses us with his stunning use of color (as well as his mise-en-scène, and in his first film in color, no less) to create meaning and visually emphasize what he wants to say in this intelligent and absurdly sharp study about depression and existential emptiness.
Carlos Magalhães
Super Reviewer
½
Being Antonioni's first color film, one cannot help be stirred by his masterful use of it. By muting colors with filters-and of course with a little help from paint-he introduces us to an industrial Italy. One void of all the romanticism associated with places like Venice. A place replete with drab grays & brown, where even fruit on roadside stands have lost their hue. It is a world changing. One in which our protagonist Giuliani, played by Monica Vitti, cannot readily accept. The way in which Antonioni captures these new machines, with a sense of eerie wonder, makes it easy to understand why Giuliana would be so unsettled by this new existence. Even Antonioni seems to easily get sidetracked by the awesome power of these monstrous machines & man's relative insignificance when standing next to them. In some ways, I would venture to call it an "industrial horror film." While my use of the term "horror" may raise a brow or two, for Giuliana, this new world is a genuine source of terror. The mechanical screams constantly pierce the air, causing Giuliana much distress. Antonioni frames scenes in which it appears that giant cargo ships are sailing right toward Giuliana, threatening to take her out in the march toward progress. In fact, Giuliana doesn't even feel at ease inside her own home. Haunted by her son's constant contact with these new technologies & other abject horrors not seen by the audience, Giuliana seems to rarely be in a state not consumed with fear. Antonioni exacerbates this fear with his camera, giving her very little room to breathe and in some instances, even backing her into corners. All of this tension is heightened by a superb electronic score which is at times as equally unsettling for the viewer. Overall, a provocative visual exercise & an interesting look at industrial Italy.
½
Absolutely stunning! Environmental composition, landscape, and color have never been used so effectively to convey state of mind. The industrial climate is an apt counterpoint to Vitti's neuroticism and lack of adaptibility. A daring and innovative cinematic achievement!!
Stefanie C
Super Reviewer
Red Desert Quotes
There are no approved quotes yet for this movie.