Red Garters
(1954)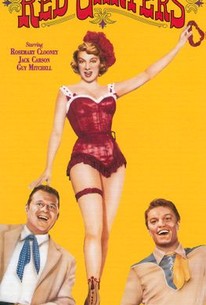 AUDIENCE SCORE
Critic Consensus: No consensus yet.
Movie Info
On paper, Red Garters sounds like a wonderful idea: a raucous spoof of westerns, done up in the stylized fashion of a Broadway musical. Rosemary Clooney and Guy Mitchell, both popular recording stars of the era, head the cast as Calaveras Kate and Reb Randall, while Jack Carson is on hand as wheeler-dealer frontier lawyer Jason Carberry. The plot, which hardly matters, concerns Reb Randall's efforts to find out who was responsible for his brother's death. The film's basic joke is that none of the traditional western cliches come to fruition: the bad guys outdraw the good guys, the damsel-in-distress isn't rescued in the nick of time, and so on. Also, this may well be the first sagebrush satire in which the male characters doff their hats respectfully when mentioning "The Code of the West" (it certainly wasn' t the last!) To emphasize the unreality of the entire project, the backgrounds are designed impressionistically, like an animated cartoon. Red Garters might have worked better as the closing production number on a TV variety program than a 91-minute feature film; even so, everyone involved (especially tunesmiths Jay Livingston and Ray Evans) deserves credit for trying something different.
Critic Reviews for Red Garters
All Critics (2) | Fresh (0) | Rotten (2)
This musical western spoof was bold in its stylized art direction (nominated for Oscar), but proved to be critical and commercial failure due to lackluster cast and mediocre songs.
Audience Reviews for Red Garters
½
Highly, really overly, stylized western musical spoof. Some good performers and decent songs but so fake , except when Rosemary Clooney sings her solos, its uninvolving.
Red Garters Quotes
There are no approved quotes yet for this movie.