Revenge for Jolly!
(2012)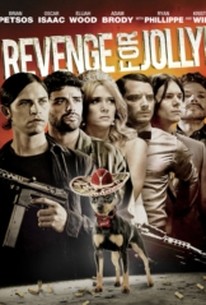 AUDIENCE SCORE
Critic Consensus: No consensus yet.
Revenge for Jolly! Photos
Movie Info
Director Chadd Harbold's first feature is a bloody tale of revenge as well as a dark comedy that centers on a low-level bad guy who hunts down the people responsible for murdering his dog, Jolly. The supporting cast includes Kristen Wiig, Kevin Corrigan, and Elijah Wood. ~ Sarah Block, Rovi
Critic Reviews for Revenge for Jolly!
All Critics (2) | Fresh (0) | Rotten (2)
.. a film undone by one key storytelling mistake - they give away the punch line to the joke at the beginning of the film and then there's nowhere to go.
I'm really not sure what the point of Revenge For Jolly! was, and I can assure you I'll never care enough to find out after my one and only viewing.
Audience Reviews for Revenge for Jolly!
Harry (Brian Petsos) is an alcoholic, a degenerate gambler, and just an overall miserable person, but one thing does make him feel a little better, his chihuahua, Jolly. While Harry is out, a bad man comes looking for him, and when he doesn't find him, he leaves a warning, and hangs Jolly from the ceiling. Upon returning home, Harry finds Jolly and loses it before meeting up with his cousin Cecil (Oscar Issac). Together, they go on an alcohol fueled revenge trip. At first I thought this was supposed to be some kind of farce on Tarentino films, but soon realized it's not sophisticated enough for that. These two guys are drunk the whole film and I suppose their bumbling actions are supposed to be funny, but they are far from it. The Producers must have known this and that's why bigger names have cameos in just about every scene. No one can believe this is all over a dog, what I can't believe is that the two leads weren't re-cast after the first day of filming. I really am at a lose to think of a comedy that was less funny than this. I gave it one star, because of the appearance by Elijah Wood, which was absolutely the only reason anyone should even think about seeing this piece of trash. Other than that, Revenge For Jolly! is just another independent comedy, that falls flat on it's face.
Todd Smith
Super Reviewer
MisterYoda ?
Super Reviewer
Revenge for Jolly! Quotes
There are no approved quotes yet for this movie.