Rhinoceros Eyes
(2004)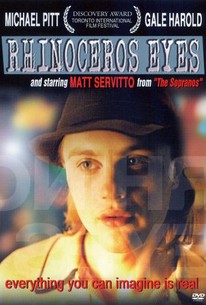 Movie Info
Written and directed by Aaron Woodley, Rhinoceros Eyes follows Chep (Michael Pitt), a reclusive prop-factory employee who quite literally lives at his job. Considering that Chep only leaves the funhouse-like factory to watch romantic films at the local movie house and is able to locate even the most obscure of objects from the depths of the prop house, he is regarded among peers as a valuable, if eccentric, asset to the staff. Eventually, Chep develops an infatuation with Fran (Paige Turco), a movie production designer with an uncanny eye for detail and authenticity. As her visits become more frequent, her requests become more bizarre -- including a pair of rhinoceros eyes, an antique Irish wooden prosthetic arm, and a severed index finger -- Chep becomes increasingly determined to procure them for her, and resorts to drastic, oftentimes violent measures. Though the police become involved, Chep's grip on reality continues to deteriorate, and visions of an alter ego constructed of prop-house junk begin to take over his life. The film also features Matt Servitto, Jim Allodi, Victor Ertmanis, and Nadia Litz.
Critic Reviews for Rhinoceros Eyes
Audience Reviews for Rhinoceros Eyes
I absolutely loved this! I had been wanting to see it for ages, and it did not disappoint me at all. A very original movie, reminded me very slightly of Donnie Darko, but better, I think (and i really liked Donnie Darko, so that's saying a lot!). Michael Pitt is fantastic in this, I cannot imagine anyone else pulling off this role. I can see myself watching this one many times over! Highly recommended!
Nicki Marie
Super Reviewer
This is a brave little indie film that ultimately falls short as a result of somewhat cloudy directorial vision. I like the story a lot, and Michael Pitt's performance is fantastically original, but it's a little too weird for its own good. Compelling in a weird way, but definitely not the gem I was expecting.
Creepy scenes, especially when Pitt's wearing that hideous mask Method acting is ok in this movie, especially in the 'horrified' scene.
Rhinoceros Eyes Quotes
There are no approved quotes yet for this movie.