Rififi (Du Rififi Chez les Hommes)
(1956)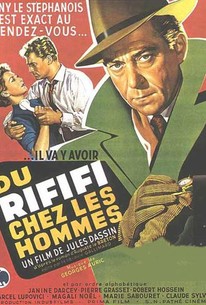 TOMATOMETER
AUDIENCE SCORE
Critic Consensus: Rififi depicts the perfect heist in more ways than one, telling its story so effectively that it essentially provided the template for an entire genre to follow.
Rififi (Du Rififi Chez les Hommes) Photos
Movie Info
Jules Dassin's second European production following his HUAC blacklisting from Hollywood is considered the first heist film, a sub-genre that would later include the likes of everything from The Asphalt Jungle to The Killing to Reservoir Dogs. The film follows the exploits of four thieves--Tony (Jean Servais), Jo (Carl Mohner), Cesar (Dassin himself, under the pseudonym "Perlo Vita") and Mario (Robert Manuel)--who hatch a scheme to rob a Paris jewelry store.
Critic Reviews for Rififi (Du Rififi Chez les Hommes)
Audience Reviews for Rififi (Du Rififi Chez les Hommes)
Rififi is a masterpiece employing unknown, but engaging actors that bring life to a story that is endlessly entertaining. You gotta love a script that has the audience rooting for the criminal's victory in breaking the law. What would any crime movie be without colorful characters that form our core crew. Tony le Stéphanois is a gangster recently released from a 5 year prison term. He's the elder statesman of the group, and the godfather to the son of his close friend Jo. Jo approaches Tony for one last diamond heist. Also joining them are a likeable Italian named Mario. His compatriot, César, offers his safecracking skills. He's played by none other than the director himself under the pseudonym Perlo Vita. The jewelry theft is the centerpiece of the saga, but it's not the climax. The heist is only one component of this adventure. There's a pulse pounding sequence of events that follows that makes this account a satisfying commentary on human weakness. One particularly memorable scene shows the violent consequences of betrayal. There's honor among thieves. fastfilmreviews.wordpress.com
Mark Hobin
Super Reviewer
This is a (French) film noir heist thriller....could it really get any better than that? No, not really. Aside from the fact that it was difficult to read the subtitles at times (black and white film with white/gray lettering), this is a top notch film, and I can see why it is regarded as one of the best and most influential heist films. It's also one of the more artful films of its type too, mostly with how it is constructed and executed. The plot is pretty standard for this type of film: criminal gets out of jail, gets involved in a lucrative score. All seems perfect, and starts off that way, but thigns fall apart, and all hell breaks loose. Much of this film (either plot or certain elements) has turned up in places such as Heat, Mission: Impossible, and the Ocean's trilogy, among others. Sometimes it is just as homage or reference, other times it seems like theft *cue rimshot*. This is just some incredibly thrilling and well done stuff. One sequence that is often mentioned is the film's centerpiece: the heist scene. It is roughly a half hour long, and nearly silent (no talking or music, but some occasional sound). Doing things this way really adds to the atmosphere and builds up the suspense and tension to an almost unbearable level. The final portion of the film involves the fallout of the job, and, for its time, some of this must have seemed rather violent and shocking. Nowadays, not so much, but it's still pretty engaging stuff. A remake of this has been planend for quite some time, and, if it ever gets made, it could be good, but regardless, do yourself a favor and check this one out. It's truly a marvelous and masterful film.
Chris Weber
Super Reviewer
½
the awful news of a remake starring al pacino has just ruined my day D: and for those who don't know, dassin wasn't a french filmmaker at all. he was born in connecticut of russian-jewish parents and grew up in harlem. he moved to europe after being blacklisted in 1950 during production of night and the city. did hollywood learn nothing from the pathetic 1992 remake of that film with robert de niro? gah!!!!!!
Stella Dallas
Super Reviewer
Rififi (Du Rififi Chez les Hommes) Quotes
There are no approved quotes yet for this movie.