Bitter Rice (Riso amaro)
(1949)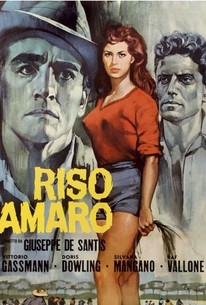 Bitter Rice (Riso amaro) Photos
Movie Info
Originally released as Riso Amaro, Bitter Rice was one of the landmark films of the postwar Italian neorealist movement. Silvana Mangano portrays one of hundreds of women toiling slavishly in the Po Valley rice fields. She is courted by two men: respectable Raf Vallone and no-good fugitive from justice Vittorio Gassman. Mangano chooses Gassman, a decision which brings disaster not only to her but to her co-workers. The rice-field scenes are realistic enough to pass muster as documentary footage, though they tend to be undercut in the English-language version by the amateurish dubbing. Critics were unanimous in their praise for Bitter Rice; their words were, however, ignored by the male fans who came to see the film solely on the strength of the now-famous production still of the buxom Silvana Mangano standing in the rice field wearing tight shorts and torn black stockings.
News & Interviews for Bitter Rice (Riso amaro)
Critic Reviews for Bitter Rice (Riso amaro)
Audience Reviews for Bitter Rice (Riso amaro)
½
a mixed bag, if there ever was one
the beginning of the end for italian neorealism was when directors started injecting sex and violence for better box office. this film sets out to explore the exploitation of female rice pickers in the italian countryside and ends in a noirish shootout. in between we have mud wrestling, gorgeous 18 yr old silvana mangano dancing and vittorio gassman as a gangster hiding out from the police, but after 50 odd years, the film holds up surprisingly well. recommended
Stella Dallas
Super Reviewer
What better way to depict the clash of cultural values than by blending elements of Neo-Realism with American film genres? The setting of the panoramic Po River Valley is obviously Marxist, as many felt this was the only area in which a true 'Workers Revolution' could occur. The plot is melodramatic, involving lust, crime and murder. Silvana is closely associated with Americanism in her love of tabloids, boogie-woogie, and bubblegum. De Santis' incorporation of gangster and western formulas celebrates American cinema, showing its appeal, yet almost undermining the film's message supporting traditional values. Americanism is ultimately condemned, as Silvana realizes the promise for a new way of life is empty, bringing the film to a shockingly dramatic conclusion. Ironically, this film launched Silvana Mangano as a sex symbol. This is another milestone and testament of the many achievements in Italian film. Bravo!
Stefanie C
Super Reviewer
Bitter Rice (Riso amaro) Quotes
There are no approved quotes yet for this movie.