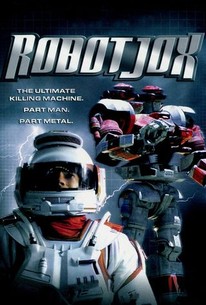 Robot Jox
1990, Sci-fi, 1h 25m
5 Reviews
5,000+ Ratings
Rate And Review
Movie Info
Huge robots manned by jockeys (Gary Graham, Anne-Marie Johnson, Paul Koslo) fight superpower duels in the post-World War III future.
News & Interviews for Robot Jox
Audience Reviews for Robot Jox
Some epic robot/mecha fighting going on here with some epic stop motion effects hehe well sort of, its certainly very dated and looks more like an episode of 'Red Dwarf' than a film but its so gloriously tacky and fun. A Band production (he does churn them out) which does seem to bare a small similarity to the recent 'Reel Steel' but admittedly is more of a mech film. Basically trained fighters combat in massive mechs for control of certain parts of the world which hold value but the fighters are part of a 'Formula 1' type team. Its chock full of silly sci-fi and wonderfully cheesy effects and bluescreen, some of which looks OK some of which looks nasty, but one things for sure the cast do their best to make it seem serious *chuckle*. Its very easy going stuff and perfect for those sci-fi hounds out there that love a good B-movie and I'm sure we all know of Mr Band's work. Goodies wear white and are team America where as the baddies wear black and are naughty evil team Russia (boo! hiss!) 'crash n burn'.
See Details