Rock-a-Doodle
(1992)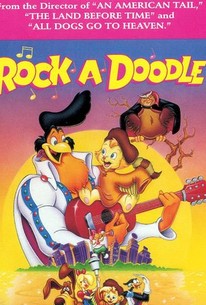 Movie Info
When Chanticleer the Rooster (Glenn Campbell) is tricked into leaving town to seek fame as an Elvis-style Las Vegas singer, his farm is plunged into eternal darkness. This animated musical from Don Bluth centers on a young farm boy who embarks on a magical journey into the animal world to try and bring Chanticleer home.
Critic Reviews for Rock-a-Doodle
Audience Reviews for Rock-a-Doodle
½
Rock A Doodle focuses on a young boy named Edmund who is cursed by the Duke of Owls (Christopher Plummer) to become an animated cat. He has set out with a few farm animals to go searching for the rooster Chanticleer (Glen Campbell) who the farm animals kicked out of the farm one day, to help crow to make the sun rise and the Duke leave. Rock A doodle is one of those films that has some pretty decent acting..... from a couple actors. Overall, most of the actors are just terrible in this movie. Glen Campbell does the stereotypical good guy, Ellen Greene does the stereotypical showgirl character, Toby Scott Granger does the stereotypical cutesy kid, and almost all the side characters are just boring or just annoying. Almost none of the main characters are interesting in the least except 2, Christopher Plummer as the Duke of Owls, and Eddie Deezen as Snipes the Magpie. Plummer may not be as good as he is in any of his other animated roles but he still does a decent performance, but the character I think that steals the show is Eddie Deezen as Snipes. This character just makes me pee my pants laughing just due to how obnoxious he sounds and how he acts and argues constantly. But overall the acting in the film is just mediocre at best. The animation in the film really is one of the strange things about Bluth in this film because it seems very off for his animation style. Bluth is known for doing some great Disney animated films like Robin Hood, Black Cauldron and had done some great animation stuff prior to this like American Tail and Land Before Time, but here, the animation is just all over the place. The films animation is alot like "We're Back! A dinosaur story" Where the animation does look close to something like Disney at times and other times it just looks strange and even a tad creepy, and I know its kind of a nitpick but it's a bit of a hard nitpick to get over for me just due to how strange and odd it looks. Go watch the movie for yourself and you'll get what I mean. Now, the comedy. It sucks. This is quite possibly one of the most unfunny children's films I've seen ever. I mean next to Snipes getting a good comedic moment every once in a while, the comedy for the rest of the film overshadows the good comedy with the bad. Every so often, they'll make a chicken joke, a penguin joke, a mouse joke, a bird joke, a cat joke, the film is just bad animal puns basically. There is one type of running gag that did make me laugh quite a bit though. It involved the failure of the Duke of Owls nephew Hunch, played by Charles Nelson Reilly. Hunch is on the look for Chanticleer to kill him, but the best part is he fails so badly every time without the other characters knowing he exists, and the slapstick actually gets close to being just as good as a Tom and Jerry Cartoon. Now my main gripe with this movie, the music. This is a film that works like a 30s cartoon where everyone is bouncing, singing, and everything has a face, and that can work for a 30s cartoon, but not an animated film from the 90s. Now Glen Campbell is well known for being a singer, and he does a good job at singing, but there are several other songs in the film that are just irritating and annoying, mainly the songs done by the Duke of Owls and his minions. Now Glen Campbell does get some good songs at least but overall the songs in this film are just plain unmemorable. Overall Thoughts, You may think I hate this film but really I think its an okay film. It certainly has a lot of flaws and it does have an annoyance to it, but the good things sometimes outweigh the bad in this film. I really don't recommend this to all people but if you're a fan of Bluths work you may like this or if you're babysitting sometime and borrow this film to watch with kids I'd recommend it.
Michael Edwards
Super Reviewer
I saw this when I was a kid, and I liked it then, but I don't really remember it now. Maybe I'll watch it again sometime, it has a very cool voice cast.
½
18% Rotten?! In my opinion, Rock-a-Doodle is one of Don Bluth's most underrated work. I've been watching this film since I was like five years old and I still enjoy it. The demented owl gave me the heebiejeebies as a child. Don't make fun of me, but I have feelings for the characters. The scene where the club that Chanticlier performed announced that no cats, dogs, birds, and mice were allowed make me feel bad for our heroes. See? Proof that I feel for the characters. This movie also shows how corrupt the world would be if populated by animals. Just take a look at Pinky the Fox! He's got "jerk" written all over him. Also, the scene where the owl keeps Chanticlier hostage under that creepy tree stump still gets me today. Don't make fun of me for this but I think Chanticlier's hen girlfriend is freakin' hot! She's far more sexier than the animatronic hen at Chuck E. Cheese restaurants. Well that's what I think of "Rock-a-Doodle", haters!!! "Jeepers, I'm furry!"
Bentley Lyles
Super Reviewer