Route Irish
(2010)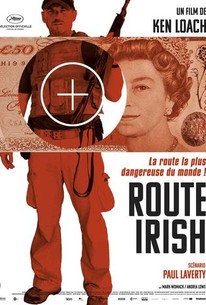 Movie Info
Celebrated British filmmaker Ken Loach explore the controversies of his nation's role in the war in Iraq in this intelligent thriller. Fergus (Mark Womack) served with distinction in a British Special Forces outfit in Iraq, and after his hitch in the Army ended, Fergus was approached by a private security firm working with civilian contractors in the war zone. Fergus wasn't interested in returning to Iraq, but when he was offered 10,000 a month for his services, he changed his mind, and persuaded his army buddy Frankie (John Bishop) to also sign on. Fergus came to regret his decision when Frankie died after hitting an improvised explosive device while traveling on Route Irish, the treacherous road between Baghdad's airport and the heavily fortified Green Zone. While attending Frankie's funeral, Fergus is approached by a woman who gives him Frankie's old cell phone, which holds a startling video of Iraqi civilians being murdered by employees of the same security firm that employed him and Frankie. Fergus believes there's a connection between the video and Frankie's death, and sets out to find it with the help of Frankie's widow Rachel (Andrea Lowe) and Harim (Talib Rasool), an Iraqi refugee. But the top men at the firm are not about to admit any wrongdoing, and uncovering what really happens proves to be a difficult and taxing process. Route Irish received its world premiere at the 2010 Cannes Film Festival.
Critic Reviews for Route Irish
Audience Reviews for Route Irish
½
Known route, but didn't wear me off.
familiar stranger
Super Reviewer
Ken Loach brings us the British view of the Iraqi war..a topic done to death by the Americans. He mostly succeeds although it feels as though it could have been wrapped up a lot sooner in order to save us from non essential dramatic pieces.
John Ballantine
Super Reviewer
An utterly powerful and truly explosive edge of your seat thriller. A muscular, intense, hard-boiled, intricately plotted and well character developed movie that hits home hard. A total powerhouse of a movie that`s deeply personal, dramatic and realistic. A triumph from Director, Ken Loach. A gripping, riveting and utterly electrifying conspiracy thriller thats fast-paced, well-crafted and superbly acted. Mark Womack gives an explosive and outstanding performance. Andrea Lowe is terrific. This film is dark and extreamly good. An riveting tour de force. A must-see. A full-throttle and pulse-pounding mystery. It grabs hold of you and dose not let go until the very last frame. A brutal and hard-core experiance. Movies dont get anymore intense or riveting than this.
Route Irish Quotes
There are no approved quotes yet for this movie.