Running Out of Time
(1999)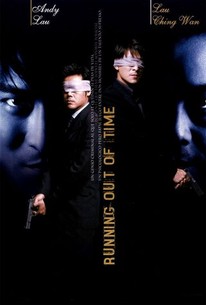 AUDIENCE SCORE
Critic Consensus: No consensus yet.
Running Out of Time Photos
Movie Info
Noted Hong Kong action director Johnny To spins this ultra-cool cat and mouse game between a very tenacious cop and a super thief with 72 hours to live. After brilliantly swiping diamonds from an insurance company, a master criminal (Andy Lau) inveigles Inspector Ho (Lau Ching-wan) into being his unwitting accomplice. Later, when the two confront each other, the thief has another trick up his sleeve.
Critic Reviews for Running Out of Time
There are no critic reviews yet for Running Out of Time. Keep checking Rotten Tomatoes for updates!
Audience Reviews for Running Out of Time
In "Running Out of Time," Chief Inspector Wong(Shiu Hung Hui) badly botches a hostage negotiation at a bank robbery, accidentally promising the robbers a helicopter they did not ask for. Luckily, he has Inspector Ho(Ching Wan Lau) around to help him out of this mess. But first Ho has to find a wheelbarrow large enough for his brass balls before going into the bank alone, which might also explain why he needs a little help to end the crisis. The next time Ho gets called off custodial duty, it is Cheung(Andy Lau) who takes a hostage at a financial center. Everything is not as it seems as unbeknowst to everybody else, Cheung only has a few weeks left to live. "Running Out of Time" is something of a mixed bag and a disappointment in wasting an intriguing setup on some weak comic relief. Otherwise, it is fun watching two charismatic characters playing cat and mouse, even with the plotting getting increasing murky as time goes on.
Immensely entertaining Johnny To Hong Kong story about the suave criminal and the super-smart cop trying to out-best each other in a complicated if implausible theft scenario. Visually stylish, with charismatic and sexy performances from both leads to sweep the action along (not that it needs that much sweeping), and there's some rather touching scenes with a girl on a bus to lower the testosterone back to manageable levels. So good they made a sequel.... but this is the only one you really need to see..
"
This movie probably as close to a perfect film as you're ever likely to see out of Hong Kong. All the elements click: a terrific script, that even manages to subvert the odd cliché, reliably imaginative direction by Johnny To, and excellent central performances by Andy Lau and Ching Wan Lau, the latter displaying his great comic timing to wonderful effect.
Steven Vincent Gee
Super Reviewer
Running Out of Time Quotes
There are no approved quotes yet for this movie.