Safe Men
(1998)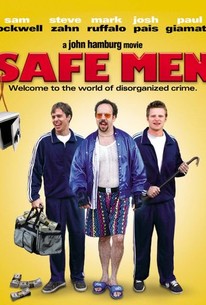 Movie Info
This comedy, set in Rhode Island, follows two lousy singers Sam and Eddie who are mistakenly accepted as safecrackers by the Jewish mafia. They soon find themselves out of their element and ill-prepared for executing heists.
Critic Reviews for Safe Men
Audience Reviews for Safe Men
I can watch this one over and over again. So many things just make this movie a comedy gem. Some people might not understand it, but I love the irreverent humor in it. The cast truly is genius, Sam Rockwell, Steve Zahn, Paul Giamatti, Mark Ruffallo. This one I hope will gain more of a cult following over time, it is just so hilarious and original.
Critic Master
Despite all of the "blah" moments that it has, "Safe Men" is charming - in a mentally-ill sort of way. There will be parts of it that you'll like, parts of it that you won't, and parts of it where you'll laugh your ass off.
Stephen Earnest
Super Reviewer
Safe Men is a quirky little comedy, and even though it unravels rather predictably, I can't say that I wasn't amused. The characters are extreme and eccentric, but they are likable in their own way (if you can get around the nonexistent character depth) and the story is odd enough to attract at least one viewing. But be warned: those who find Napoleon Dynamite to be undesirable should stay away from Safe Men because most of the humor is identical between the two. Nevertheless, I found it very funny. Hell, I even laughed out loud a couple of times. Favorite quote: Bernie: "Chop, do you think you can learn these two where the next safe is?" Chop: "Done and donner." Bernie: "Why can't you just say fucking 'Yes' when I ask you a question?"
Stephen Earnest
Super Reviewer
Safe Men Quotes
There are no approved quotes yet for this movie.
Discussion Forum
Discuss Safe Men on our Movie forum!