Sakuran
(2006)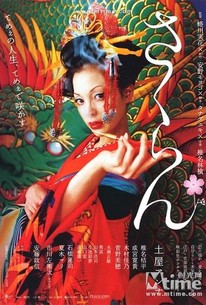 Movie Info
Mika Ninagawa's lavishly produced, broadly-scaled period epic Sakuran unfurls in 18th century Edo, the embryonic fishing village that in later years blossomed into the Japanese metropolis of Tokyo. Anna Tsuchiya stars as Kiyoha, a social-climbing courtesan who inhabits and works in a bordello of the exclusive Yoshiwara district. Exceptionally particular regarding her customers/bedmates, Kiyoha seeks liberation from the lifestyle and career that have ensconced her - but refuses to accept such emancipation at the hands of a rich man's purchase. Deliberately, yet with great assurance and conviction, Kiyoha approaches the prospect of freedom and attempts to surmount the social and cultural obstacles that stand in her way. ~ Nathan Southern, Rovi
Critic Reviews for Sakuran
Audience Reviews for Sakuran
Gaudy.
½
Great artisticly executed movie from Mika Ninagawa... I really enjoyed everything she did in this movie set in 18th Century Edo, Japan. "Sakuran" traces the life of Kiyoha as she ascents from the lowly courtesan ranks to the high class position of Oiran in the steamy red-light district of Yoshiwara. The oiran were women that existed during the Edo era and they lived in self-contained "Pleasure Quarters" and like geishas were required to be well-versed with the arts of dance, music, poetry and calligraphy, and conversation. However, unlike geishas, the oiran were prostitutes, although they were considered to be elite prostitutes.
½
The storyline itself is pretty generic - nothing you won't have seen outside other films in vaguely the same area like Memoirs of a Geisha and Moulin Rouge, only with more graphic sex (it is the nature of the Oiran after all). What made this special for me was the stunning way it was shot, with bright colours, an eclectic mix of modern and historical elements in costume and set, and a few experimental or unusual shots. Kiyoha's character seems pretty modern, or at least not in any way meek, which is refreshing but not really automatically endearing - that comes later. Those of you who want to see this, be prepared to be there for the long haul. I wouldn't call it dull, but the plot isn't especially action-packed.
Sakuran Quotes
There are no approved quotes yet for this movie.