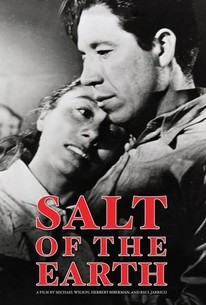 Salt of the Earth
1954, Drama, 1h 34m
13 Reviews
1,000+ Ratings
Where to watch
Rent/buy
Subscription
Rate And Review
Movie Info
At New Mexico's Empire Zinc mine, Mexican-American workers protest the unsafe work conditions and unequal wages compared to their Anglo counterparts. Ramon Quintero (Juan Chacon) helps organize the strike, but he is shown to be a hypocrite by treating his pregnant wife, Esperanza (Rosaura Revueltas), with a similar unfairness. When an injunction stops the men from protesting, however, the gender roles are reversed, and women find themselves on the picket lines while the men stay at home.
News & Interviews for Salt of the Earth
Audience Reviews for Salt of the Earth
"If I can't dance, I don't want to be in your revolution" - Emma Goldman In "Salt of the Earth," Esperanza(Rosaura Revueltas), who is married to Ramon(Juan Chacon), a mine worker, has grave doubts about the future while she is pregnant with her third child. A lot of that comes from living in a house owned by the company with inadequate sanitation, and not even being able to afford a small luxury like a radio. And that's not to mention him spending a lot of nights out with the guys. It is not only the low pay that Ramon and his fellow workers are angry about(getting paid less than their Anglo counterparts adds insult to injury), it is the danger of the job as the men are forced into the dangerous position of having to work alone. When an accident does happen, gravely injuring a worker, that is the final straw, as a strike is called. With a cast of professional and amateur actors, "Salt of the Earth" is a rousing and detailed call to arms that was far ahead of its time in not only attacking the racism of the mine owners, as Hispanic culture was in danger of being written over, but also telling the story from a Hispanic point of view which is not exactly common even in this more enlightened day and age. What's even more exceptional is recognizing the roles that women have played in strikes(one of the characters in the movie should have been a lawyer), and not only in support positions, either, but on the front lines of the picket. In fact, Mother Jones(1837-1930) was a fearless union organizer in her time.

It's worth watching simple for the history behind the making of this film. I really dug Rosaura Revueltas, too.
See Details