Salvatore Giuliano
(1962)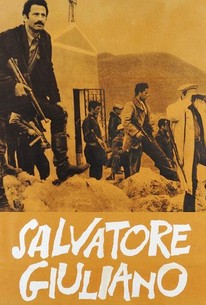 Salvatore Giuliano Photos
Movie Info
This crime drama is based on the factual account of Sicilian Mafia don, Salvatore Giuliano. The story begins on July 5, 1950, as Giuliano's bullet-riddled corpse is found in a bright courtyard. During his wake and funeral, the gangster's life is chronicled in flashback. He is seen participating in gangster-related guerrilla activities in Sicily after the war. Later he is seen slaughtering a group of peasants at a communist rally. This precipitates a bloody confrontation between his group and the law. In the end, Giuliano is so violent and cruel that his own men desert him. Even his own assistant leaves, but soon the hapless second-in- command is captured and sent to prison where he ends up poisoned by the Mafia, a group he joined after leaving Giuliano. The film was shot entirely in Sicily and utilized local non-professional actors as well as professional actors.
Critic Reviews for Salvatore Giuliano
Audience Reviews for Salvatore Giuliano
A casual glance at "Salvatore Giuliano"'s particulars suggests an organized-crime saga, but instead it's an extremely convoluted tale (based on fact) of an assassinated Sicilian revolutionary. The political situation -- government vs. Sicilian separatists vs. Mafia -- is quite specific and doesn't have much appeal to people without a pre-existing interest in the situation, and the film is constructed such that almost none of the actors are featured enough to create a lasting impression. The title character himself doesn't even appear onscreen, except as a corpse (the action cuts between the present day and flashbacks). Sure, portraying the protagonist as an unseen cypher is a daring move, but it robs the viewer of making any emotional connection with him. With raw, documentary-like direction and a minimal score that goes no further than occasional growling drones, the film fails to have any sensuous appeal either. This is a sophisticated, admirable piece of work, but it's a tough one to even finish.
Eric Broome
Super Reviewer
½
"Salvatore Giuliano" starts on July 5, 1950, just after Salvatore Giuliano(Pietro Cammarata) has been murdered. There is differing testimony from the eyewitnesses that not only contradicts the police account but each other. Five years previously, in the wake of the end of World War II, Sicily is on the verge of proclaiming its independence.(I had never heard of this before but it makes sense considering the cultural differences between Sicily and the mainland.) The leaders of the indpendence movement enlist bandits to the cause, giving Giuliano a field commission of colonel and a provisional amnesty. "Salvatore Giuliano" is for the most part a riveting docudrama about the legendary independence fighter and bandit, the movie spending a good deal of thought wondering about the difference between the two. Throughout, Giuliano is protrayed as a shadowy figure, mostly known by his distinctive white duster as the police and army try more restrictive methods with each successful strike in order to try and stop him and his bandits which in turn just alienates the native populace. And director Francesco Rosi shows a fine touch with the natural locations and crowd scenes. However, the movie almost falls apart at the end due to a marathon court session that instead of resolving the central mystery, just manages to confuse things even further.
Salvatore Giuliano Quotes
There are no approved quotes yet for this movie.