Samaritan Zatoichi (Zatôichi kenka-daiko)
(1968)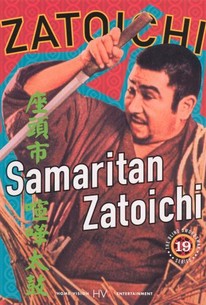 AUDIENCE SCORE
Critic Consensus: No consensus yet.
Movie Info
Mythical wandering swordsman Zatoichi (Shintaro Katsu) finds himself in dire straits after being duped into killing a man with a large gambling debt in the 19th chapter of the long-running samurai saga. Almost immediately after Zatoichi completes his mission of terminating the troublesome debtor, the man's sister arrives at the yakuza headquarters with the money needed to pay off her siblings' debt. Realizing that he has been duped by the crafty gangsters, Zatoichi must now make reparations by freeing the girl from the evil boss and escorting her to safety.
Critic Reviews for Samaritan Zatoichi (Zatôichi kenka-daiko)
There are no critic reviews yet for Samaritan Zatoichi (Zatôichi kenka-daiko). Keep checking Rotten Tomatoes for updates!
Audience Reviews for Samaritan Zatoichi (Zatôichi kenka-daiko)
½
In this 19th film in the Zatoichi saga we once again are in for a treat as Ichi is once again manipulated into killing and then having to repent for his actions, although unknown at the time. Once again we are in for a tale of avenging one's previous actions and Ichi lays waste to all those that oppose him and rescues the sister of the man he originally killed under wrong pretenses and then continues on his way. The film is fast paced and filled with action throughout all culminating in a final one on one showdown which proves to be the most dangerous and challenging of Ichi's battles so far. There is a lot to like here and this is another fantastic film in the Zatoichi saga!
Chris Browning
Super Reviewer
19th outing for Zatoichi, and in all honesty the last few efforts were becoming a bit of a chore to get through. Not because they were bad, just because they were too familiar. I was surprised to see Samaritan Zatoichi grab me once again. This has it all. The perfect mixture of comedy and violence, with great complexities in emotion and characterisation. The main treat here is an almost corrupted Zatoichi. He must kill a man according to the brotherhood code, really highlighting Zatoichi as the gangster he is often referred to as, and also cheats in a game of dice. After his first kill, he is tormented by how he has been used. The sister of the man also comes close to killing him, but instead develops a complex love affair. It doesn't JUST happen, we are treated to a classic and moving scene where she admires his skills and then has flashes of his skills used to kill her brother. These fantasy moments are beautifully silent and coloured in a weird nightmarish palette. The comedy is also fantastic, making slapstick funny without being ridiculous. The villains are also very interesting and add to the excitement. There's some great music/songs, excellent editing and even some inventive shots, such as a camera on it's side displaying the full length of a tree in widescreen. Great to see how wonderful these films can still be.
Luke Baldock
Super Reviewer
Samaritan Zatoichi (Zatôichi kenka-daiko) Quotes
There are no approved quotes yet for this movie.