Samehada otoko to momojiri onna (Shark Skin Man and Peach Hip Girl )
(2003)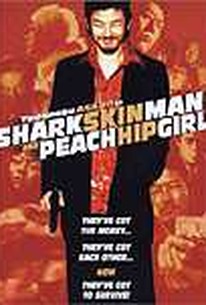 Samehada otoko to momojiri onna (Shark Skin Man and Peach Hip Girl ) Photos
Movie Info
Drawing equally from Quentin Tarantino, Hong Kong action spectaculars, Japanese anime, and the over-the-top fashion sensibility of Tokyo's Shibuya district, Katsuhito Ishii spins this dizzying propulsive flick about lovers on the run and the weirdest band of gangsters on the planet. Toshiko Momojiri (Shie Koinata) dreams of a life away from the grinding tedium of working in a run-down hotel and away from her perverted, pawing uncle who manages the place. While driving to the post office, she literally runs into Kuro Samehada (played by Japanese indie film icon Tadanobu Asano), a thief who stole a pile of loot from his former gang and is currently fleeing them dressed only in his underpants. He jumps in the driver's seat, and soon love is born. The gang is lead by a dandy of a boss (Kishibe Ittoku) who obsessively collects energy-drink ads while his son Mitsuru (Shingo Tsurumi) -- heir apparent of the gang -- sports a snow-white jumpsuit and platinum locks; they are single-minded in their lust for Kuro's pilfered loot. Meanwhile, Toshiko's uncle puts a bounty on his niece and a hit out on his new competitor for her attention. Ultra-violence, bizarre sex, and killer costumes ensue. This film was screened at the 1998 Toronto Film Festival. ~ Jonathan Crow, Rovi
Critic Reviews for Samehada otoko to momojiri onna (Shark Skin Man and Peach Hip Girl )
Audience Reviews for Samehada otoko to momojiri onna (Shark Skin Man and Peach Hip Girl )
½
a fun caper flick featuring an odd couple on the run from a host of colorful characters. it's very stylish, with a light tone that becomes much darker, reminiscent of a tarantino film. tadanobu asano is dead cool as ever
Stella Dallas
Super Reviewer
A man named Samehada (Ichi The Killer's Tadanobu Asano), on the run from the Yakuza for stealing one hundred million yen joins up with a woman, Toshiko, on the run from her job at her perverted uncle's hotel. The uncle hires an elven hitman with a unibrow, Yamada, to kill Samehada and ensure Toshiko's safe return. Even tho it seems the viewer is thrown into the fast-paced film with so many characters, they're all well developed and the film becomes very easy to follow. Sure, the story of a yakuza being chased for stealing money from the gang isn't anything original, but this film has something others don't. Style. Includes a favorite opening credits sequence.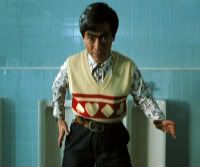 El Hombre Invisible
Super Reviewer
Samehada otoko to momojiri onna (Shark Skin Man and Peach Hip Girl ) Quotes
There are no approved quotes yet for this movie.