Sarah Silverman: Jesus Is Magic
(2005)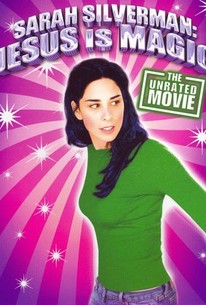 Sarah Silverman: Jesus Is Magic Photos
Movie Info
The film comprises Sarah Silverman's performance before a live audience interwoven with stylish musical numbers and backstage intrigue. Comedians Bob Odenkirk and Brian Posehn also make appearances along with Silverman's band, The Silver Men. Known as one of the funniest and most provocative people in comedy, Silverman has been compared to the legendary Lenny Bruce. Despite the current political climate, she takes on such pitch-black topics as September 11th, unwanted body hair and the Holocaust and spins them into decidedly un-PC comedic gold.
People Who Like this movie also like
Critic Reviews for Sarah Silverman: Jesus Is Magic
Audience Reviews for Sarah Silverman: Jesus Is Magic
Sarah Silverman: Who cares? Different religions. I guess the only time it's an issue I suppose would be if you're having a baby, you have to figure out how you want to raise your baby or whatever, which still would not be an issue for us. Because you know, we'd just be honest, and say "Mommy is one of the chosen people, and Daddy believes that Jesus is magic." A strangely edited concert film showcasing Sarah Silverman. One's enjoyment of Silverman as a comedian is certainly going to be the deciding factor here. I am on an OK level with her work as a comedian. I can appreciate her balance between being edgy and borderline racist and I do like how very deliberate she is with her choice of words, pauses on stage, and throwaway one-liners. This film is kind of messy. There is a very unfunny framing device, musical numbers that are OK, and the majority of the film is one particular stand-up session. I never found anything really laugh out loud hilarious, but it was often humorous and a good look at what Silverman has to offer as a comedian. Ok film if you like her style. Sarah Silverman: When God gives you AIDS - and God does give you AIDS, by the way - make lemonAIDS.
Aaron Neuwirth
Super Reviewer
If you took away all the musical numbers than this could have been a lot better.
James Alvarez
Super Reviewer
½
I'm not sure if Silverman is an edgy genius or an intensely irritating attention seeking egotist. A bit like Robin Williams. She undoubtedly has no fear and pricks your conceptions on all the taboos. Her relentless desire to shock does get a little wearing though.
Gordon Anderson
Super Reviewer
Sarah Silverman: Jesus Is Magic Quotes
There are no approved quotes yet for this movie.