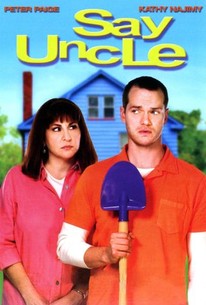 Say Uncle
2005, Comedy/Drama, 1h 31m
19 Reviews
10,000+ Ratings
Rate And Review
Movie Info
After his beloved godson moves away, an artist named Paul (Peter Paige) surrounds himself with children, but fearful parents misconstrue his intentions. One, Maggie (Kathy Najimy), leads a misguided witch hunt against Paul, intending to expose him as a child molester.
Audience Reviews for Say Uncle
a movie that was not expecting to be so good, or to like it enough to rate it with 4 stars. It's a movie that debates a few aspects of the life that surround us with a clear, short and expressive message "NEVER JUDGE A BOOK BY IT'S COVER"

Wow. This has to be the most awkward cinematic experience of my life! I adore Peter Paige as Emmett on <i>Queer As Folk</i>, and when I heard that he had made a film, I naturally felt the urge to check out his directorial debut. His character in this film is a sweet and genuinely kind person, but naive to the point where you wonder how he can even function in the real world. He's quite simply, still a child at heart. It's obvious that he never realizes that playing with random children at the park would cause the certain parents of those children to question his motives. To be honest, I felt a little creeped out watching this movie. I know it was meant to be sweet and funny, but instead of Paige's character being the innocent guy that you expect him to be, I thought he came off as more of a potential serial killer. But hey, that's just my opinion. What sucks is that this film could have been quite cute if it had been approached better, and possibly with a larger budget. It did have its moments though. I really, really wanted to love it, because Peter Paige is so perfect in everything else that he does. Perhaps the next film he directs will be more of a success. I truly hope so.
See Details