Scary Movie 5
(2013)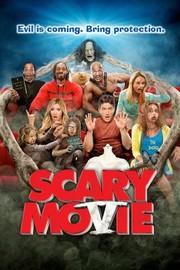 Tickets & Showtimes
Scary Movie 5 Trailers & Photos
Movie Info
The latest installment of the SCARY MOVIE franchise includes send ups of PARANORMAL ACTIVITY, MAMA, SINISTER, THE EVIL DEAD, INCEPTION, BLACK SWAN and pop culture featuring Ashley Tisdale, Charlie Sheen, Lindsay Lohan, Snoop Dogg, Katt Williams, Molly Shannon, Terry Crews, Simon Rex, Jerry O'Connell, Sarah Hyland, Katrina Bowden, Tyler Posey, Shad Moss aka Bow Wow, Kate Walsh, Heather Locklear, Mac Miller and Mike Tyson. SCARY MOVIE V is directed by Malcolm Lee who teamed up and worked side by side with legendary comedy director David Zucker (AIRPLANE, THE NAKED GUN franchises). Zucker wrote and directed SCARY MOVIE 3 and 4 and also co-wrote and produced SCARY MOVIE V. The SCARY MOVIE franchise, which lampoons the greatest in horror and genre fare, has grossed over $800 million worldwide. (c) Weinstein
more
Cast
News & Interviews for Scary Movie 5
Critic Reviews for Scary Movie 5
Audience Reviews for Scary Movie 5
½
Evil is coming. Bring protection.

Very weak comedy movie! The worst of the Scary Movie franchise. The era of spoof and parody is dead. Let me start off by saying that I knew this film was going to be horrible from the start. I had read reviews and knew it was bad, but being so infatuated with film and theater, I actually wanted to see the movie to diagnose exactly what made it so horrible. Admittedly, there were some very rare parts of the movie that had a somewhat witty humor to it, but it was only once or twice, and weak at that. The rest of the stupid slapstick humor was just so lame and dragging. Overall, there was almost no sophisticated or witty humor, horrid acting, and it was all just plain bad. So yes, the reviews are correct, it was horrible. Don't waste your time!

Happily-married couple Dan and Jody begin to notice some bizarre activity once they bring their newborn baby Aiden home from the hospital. But when the chaos expands into Jody's job as a ballet dancer and Dan's career as an Ape researcher, they realize their family is being stalked by a nefarious demon. Together, with the advice of certified experts and the aid of numerous cameras, they must figure out how to get rid of it before it's too late.
½
The spoof genre is officially buried. We can confirm that now. That the end was nigh, we knew already six years ago when Jason Friedberg and Aaron Seltzer went to the john and squeezed out the abomination known as Epic Movie. Which they proudly patted each other on the back over, packaged and shipped out to the misery of audiences everywhere. I myself saw it with my younger brother - he contracted something akin to a stomach ulcer long before the end credits rolled.

The Scary Movie series, on the other hand, has been what you'd call a guilty pleasure of mine. Jejune and IQ-depraved, no argument there, but at least I got some good laughs out of it, even from the franchise's fourth and then-weakest installment.

Film number five starts off fairly decent with an adequately amusing Benny Hill send-up performed by the poster children of all Hollywood scandals: Lindsay Lohan and Charlie Sheen. A quick-n-easy paycheck for them both, which we can only assume they have snorted away by now.

The few chuckle-worthy jests at the film's disposal are exhausted before we even get halfway. The rest is exclusively devoted to such tasteful antics as - brace yourselves - toilet humor, fat jokes, groin kicks, slapstick and Heather Locklear repulsively giving birth on stage during a performance of the ballet classic "Swan Lake". Whew! And blergh...

A combination of Mama and Paranormal Activity has served as a basis for the plot, although any mention of story is in this case quite irrelevant. Everything between Inception to Evil Dead has become a target for ridicule, which sounds fun on paper, but the potential and many celebrity cameos of which are utterly squandered.

If, despite my warnings, your cravings for a dose of unrestrained humor won't let itself be suppressed, rather dust off your DVD collection and introduce your teenagers to great classics like Airplane! and The Naked Gun series. Or why not Hot Shots 2, now that we have Charlie Sheen fresh in subject. Any and all are a more preferable option than writhing and suffering in front of this appendicitis of a parody.

Rest in peace, thou once enjoyable genre.

http://www.facebook.com/pages/Mikes-Movie-Reviews/281824101875153?ref=hl
Scary Movie 5 Quotes
Tom: I'll pay you to get me out of this movie.
Tom: I've come back from worse than this!
Jody: I feel like there's something in this house.
Jody: Who's the cutuest baby in the world? Little baby Aidan.
Discussion Forum
Discuss Scary Movie 5 on our Movie forum!
News & Features