Scenes of the Crime
(2003)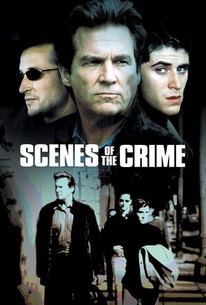 Scenes of the Crime Photos
Movie Info
A small-time crook who worships Steve McQueen gets in over his head in French music video director Dominique Forma's debut feature, Scenes of the Crime. Lenny (Jon Abrahams of Scary Movie) is about to be married, but he skips his own bachelor party to drive for thug Rick (Peter Greene), who, unbeknownst to Lenny, is planning a kidnapping. The kidnapping plot goes awry, and Lenny ends up alone in the van, holding the soft-spoken victim, Jimmy (Jeff Bridges), at gunpoint. Jimmy turns out to be a powerful criminal himself and warns Lenny that there will be dire consequences if he isn't released unharmed. While Jimmy's partner (Bob Gunton) negotiates his release with Rick's boss (Loyd Catlett), Jimmy's slimy bodyguard, Seth (Noah Wyle of E.R.), tries to figure out a way to resolve the situation himself. As the van sits parked on a city street, the couple that runs the nearby deli (Morris Chestnut and Madchen Amick) and a senile old man who lives nearby (R. Lee Ermey) become involved in the tense standoff. Based on an anecdote Forma heard in a seedy bar, Scenes of the Crime was shown in competition at the 2002 Tribeca Film Festival.
Critic Reviews for Scenes of the Crime
Audience Reviews for Scenes of the Crime
It never quite lives up to the buildup and strength of the overall cast (save Jon Abrahams-who is bad), with a muddled third act and sloppy characterizations. Still, it has enough tense moments and twists to keep things interesting.
Jeffrey Meyers
Super Reviewer
½
ADD A STAR AND A HALF IF YOU LIkE JEFF BRIDGES IN A MOVIE. IT WAS OK.
Fascade Fiveoneeight
Super Reviewer
Scenes of the Crime Quotes
There are no approved quotes yet for this movie.