Sex and Lies in Sin City: The Ted Binion Scandal
(2008)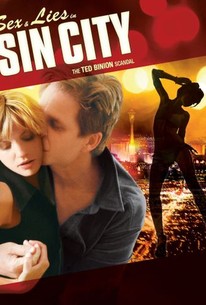 AUDIENCE SCORE
Critic Consensus: No consensus yet.
Sex and Lies in Sin City: The Ted Binion Scandal Photos
Movie Info
Matthew Modine, Mena Suvari, and Marcia Gay Harden star in director Peter Medak's look at one of the biggest scandals ever to rock Las Vegas. The owner of the world famous Horseshoe Casino, Ted Binion (Matthew Modine) was one of the most powerful men in Sin City. But sin got the best of Ted when he fell scorching stripper Sandy Murphy (Mena Suvari). Caught up in a web of drugs and deception, noted heroin user Binion suffers a suspicious overdose that is quickly classified as a homicide. As Binion's sister Becky (Harden) works overtime to prevent the case from going cold, Sandy and her boyfriend (Johnathon Schaech) race to solve the mystery and prove their innocence. Based on the book Murder in Sin City by author Jeff German.
Critic Reviews for Sex and Lies in Sin City: The Ted Binion Scandal
There are no critic reviews yet for Sex and Lies in Sin City: The Ted Binion Scandal. Keep checking Rotten Tomatoes for updates!
Audience Reviews for Sex and Lies in Sin City: The Ted Binion Scandal
½
It was so-so. Entertaining enough to have on in the background while I worked on some other stuff.
Erin Collins
Super Reviewer
Trashy but not totally unenjoyable. I actually did not know this story, so it was all new to me. Not sure if it is deliberately vague about whether she was guilty or not, or I just wasn't paying attention closely enough, but it is a bit up in the air. For a bit of brainless entertainment, it was okay, though.
Nicki Marie
Super Reviewer
Ninety minutes of this made-for-Lifetime-TV melodrama teaches almost nothing about this actual Vegas murder case ... that can't be learned in five minutes reading on the web. Overall, this is dull & uninformative work. And the director must have worked hard to make it that way, given it's a story about a Vegas casino owner on drugs, his young exotic dancer live-in lover, HER lover and the owner's shrewish conniving sister. Said another way, the story itself is indeed interesting. This film is not. Even though I figured this film would be drier than the Death Valley, I watched it anyway. Because I am a Vegas trivia hound. I've collected more of it my head than anyone in a 300-mile radius. So when this puppy turned up in the $1.99 bin at my local supermarket, complements of the collapse of Hollywood Video, well there was no way it wasn't coming home for a spin in my player. In the $1.99 bin at the supermarket - - with a teasing title like this on the cover artwork? Well, that should tell a person something right there. But into my player it went, just the same. The film actually leans slightly toward implying Murphy & Tabish are innocent. For example, the fact that Tabish already had a fairly lengthy criminal history is never once mentioned. And that's also an example of the fact that, well, a lot of facts are left out. Not that the director didn't have the time to present them. Within the first six minutes of the film, Suvari arrives in Vegas in her beater car, loses her wad of cash at Caesars, gets a job dancing at Cheetahs, meets Binion and moves in with him. Yep, no dilly-dallying around with actual facts in this film! But if you're the type of person who would rather watch melodrama to learn about such a thing, rather than read, say, TruTVs Crime Library article to get all the facts, well then I suppose this was indeed made for you. This is low-budget stuff, of course, so don't hold high expectations. Every scene is a set piece that was built somewhere that was nowhere near Las Vegas. And apparently not built anywhere near accomplished set builders either. Acting is pretty humdrum, delivered by known C-listers. If you didn't think Mena Suvari could ever look bad on screen, well then you might want to take a gander. And I don't mean just her acting. I mean the makeup artist was obviously being paid minimum hourly wage. Suvari close-ups look like test shots for a Clearasil commercial. RECOMMENDATION: Based on the evidence, Mena Suvari, guilty of acting at merely pay-check-speed, is hereby sentenced to no less than two years watching this film over and over again until eligible for parole.
TonyPolito Polito
Sex and Lies in Sin City: The Ted Binion Scandal Quotes
There are no approved quotes yet for this movie.
Discussion Forum
Discuss Sex and Lies in Sin City: The Ted Binion Scandal on our Movie forum!