Shakespeare Behind Bars
(2005)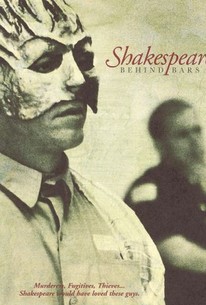 Movie Info
Some 20 male inmates in a Kentucky prison form a Shakespearean acting troupe.
Critic Reviews for Shakespeare Behind Bars
Audience Reviews for Shakespeare Behind Bars
Hmm...mixed feelings. First of all, I don't think the program is THAT big a deal, like people are making it out to be. Sure, some of the inmates might be profoundly moved by the play, but I hardly think they're representative of the population. (wow...I think in terms of psychology now -_-). Some of it seemed too cutsey. Like, "let's laugh at the semi-articulate black man prunce around in a female character's costume!" Errrr.... I kept imagining how the victims' families would see this movie. Although, there are some thought-provoking segments, particularly the speech given by a 7-victim sexual abuser. At my screening, the guy who ran the program was there and held a Q + A session. He was much more obnoxious in person. Isn't it ironic how self-proclaimed "bleeding heart liberals" are supposed to be "free" and whatnot but they all end up so Debbie-Downer bitter? Jeeze.
Joey Nevarez
Super Reviewer
Shakespeare Behind Bars Quotes
There are no approved quotes yet for this movie.