The Shape Of Things
(2002)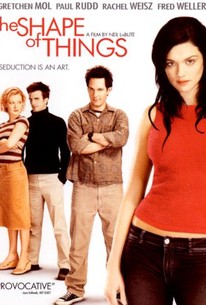 The Shape Of Things Photos
Movie Info
After a detour into lighter and more compassionate fare with Nurse Betty and Possession, Neil LaBute returns to the themes of his earlier films with this dark and corrosive look at male-female relationships. Adam (Paul Rudd) is a chubby, bespectacled nebbish of a college student who makes money in his spare time as a security guard at the university's art museum. One evening at work, Adam spies another student preparing to deface a statue -- Evelyn (Rachel Weisz), a beautiful art major who is offended by a fig leaf that's been used to "censor" a statue of a nude male, and is prepared to replace the disguised member with spray paint. Adam can't quite bring himself to kick Evelyn out of the museum, and she responds by giving him her phone number. Adam and Evelyn begin dating, and as she challenges his ideas about art and morality, she begins remaking Adam into the sort of boyfriend she'd prefer. Under her influence, Adam loses weight, gets contact lenses, changes his hairstyle, starts dressing better, and assumes a cooler and more confident personality. Adam's pal Philip (Frederick Weller) notices the changes in his friend and isn't happy with the way Evelyn has been molding Adam to her specifications. Adam and Evelyn have dinner one night with Philip and his fiancée, Jenny (Gretchen Mol), and before long Philip and Evelyn are at each other's throats as Adam and Jenny cower along the sidelines. The tensions between Philip and Evelyn exacerbate uneasiness between Jenny and her husband to be, while at the same time, Jenny and Adam begin to recognize a mutual attraction that's long lurked beneath the surface. The Shape of Things was adapted by LaBute from his stage drama of the same name; a selection of songs by Elvis Costello comprise the soundtrack.
People Who Like this movie also like
News & Interviews for The Shape Of Things
Critic Reviews for The Shape Of Things
Audience Reviews for The Shape Of Things
Neil LaBute completes a trilogy (unofficial, of course) of films about how men and women act and treat each other. "The Shape of Things" (adapted from his stage play like his other two features, the memorable "In the Company of Men" and the dicey "Your Friends & Neighbors") is another scathing and insightful look into relationships. While you will never meet anyone like the people in this or his other films, you will recognize bits and pieces of everyone in each. The dialogue is complex and full and the performances are committed and juicy. "The Shape of Things" marks the last good film LaBute has made (for whatever reason he moves on to goofy Hollywood thrillers like "The Wicker Man" and "Lakeview Terrace" and the embarrassing "Death at a Funeral" remake- one would think those films were from a totally different human all together; my bet is he became a drug addict because no one looses such talent so quickly) but this wonderful, tricky and rewarding series of films is well worth your serious time and attention. I think "The Shape of Things" is the easiest to digest, but when taken as a whole, you will never forget any of them.
Steven Carrier
Super Reviewer
A pretty well put together film. There's parts where the "awkwardness" of a lot of the scenes overtake the mood of the movie. I didn't feel as connected to the characters as I wanted to. Weisz and Rudd are both terrific, with a twist I saw coming from miles away. Still, worth watching if you like movies featuring good acting and a story that has an "indie" sort feel to it all.
Dan Schultz
Super Reviewer
The dialogue is uncomfortably recitative and I get the feeling LeBute is doing it on purpose. Which I don't understand because my insides feel EXTREMELY constricted. In general the concept of the thing is quite interesting but this was a really weird way to approach it. I feel like Paul Rudd was misdirected, or something. All that said, I really like Rachel Weisz's American accent. She should seriously talk like that all day.
Jennifer Xu
Super Reviewer
The Shape Of Things Quotes
| | |
| --- | --- |
| Adam: | Well, lucky me. I got to be part of your installation "thingie." |
| | |
| --- | --- |
| Evelyn: | It's all subjective, Adam. Everything. |
| | |
| --- | --- |
| Adam: | Just refer to me as it or untitled. |
| | |
| --- | --- |
| Evelyn: | Only indifference is suspect. |