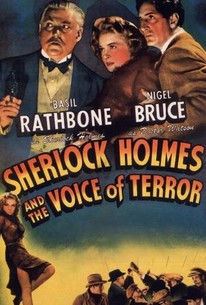 Sherlock Holmes and the Voice of Terror
1942, Mystery & thriller, 1h 5m
3 Reviews
1,000+ Ratings
Where to watch
Rent/buy
Rent/buy
Rent/buy
Rate And Review
Sherlock Holmes and the Voice of Terror Photos
Movie Info
In wartime England, cryptic radio broadcasts from Nazi Germany are spreading panic throughout the region. Sherlock Holmes (Basil Rathbone) and his devoted assistant, Dr. Watson (Nigel Bruce), are summoned by British intelligence to find the source of the mysterious "Voice of Terror." A slain informant's tip sends Holmes to London's grimy Limehouse district. There the stalwart sleuth gains the trust of the informant's wife, Kitty (Evelyn Ankers), and evades capture by a Nazi spy.
Audience Reviews for Sherlock Holmes and the Voice of Terror
20th Century Fox dropped Holmes after just two films. They were soon picked up by Universal. They decided to keep Rathbone and Bruce, a winning combination, but decided to make a huge change. They changed the setting from the original Victorian London, and placed it firmly in present day war torn London. This is a huge change done for the sole reason of using a familiar character to dish out some propaganda. It's a bit of a shame really, as the scenes involving patriotism are so heavy handed they stop the movie dead. One scene has a lengthy speech about being British and how not helping Holmes is the same as helping the Nazis. Holmes is called in to find the Voice of Terror, a member of the Third Reich, making radio announcements about Nazi attacks on British soil. Rathbone keeps his character intact using the usual skills to bring evil to justice. Universal have lost all of the ominous atmosphere of the previous films. It often feels very clinical in its construction. Bruce is barely noticeable and his sole purpose seems to be asking Holmes how he possibly could have known such a thing, allowing Holmes to explain to the audience. The supporting cast are of a high calibre, but their actions do seem more geared towards stopping Holmes out of pride, than about protecting their country. It certainly is short, and there is enough to keep you entertained. However, when the final shot is encouraging you to buy War Bonds, you kind of wish they had left Holmes out of this and just used an original character.
See Details