Signs
(2002)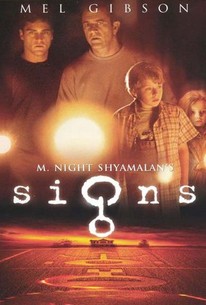 Movie Info
A thriller set in Bucks County, Pennsylvania focusing on the mysterious appearance of a five-hundred-foot design of circles and lines carved into the crops of the family farm. Graham Hess is the family patriarch who is tested in his journey to find the truth behind the unfolding mystery.
People Who Like this movie also like
News & Interviews for Signs
Audience Reviews for Signs
While I perhaps did not understand all the apparent symbolism, I can certainly appreciate great suspense when I see it and this movie scared me. It is so toned down and slow, giving you only hints here and there, teasing you on the other end, that you just end up gripped with this film. Again, the philosophical part of the movie was completely lost on me (something about lost faith perhaps) but don't let that bog you down from watching this.
An expertly put-together sci-fi thriller which is the last great M. Night Shyamalan movie put out in over a decade. Mel Gibson and Joaquin Pheonix are excellent as two brothers trying to run a family together, but once their crops come under attack and an alien invasion seems imminent, personal history erupts as a war of possibly apocalyptic heights comes to Earth. This is right on par with "The Sixth Sense" in terms of Shyamalan's work, and the ending is one of my favorites of all-time as he masterfully interweaves a powerful soundtrack with a ferociously action-packed conclusion. A massively under-appreciated and misunderstood movie that will hopefully be more respected as the years go on. Gibson gives one of the best performances of his career, as does Phoenix, and the strong acting and astoundingly good story-telling makes this a flawless motion picture.
Dan Schultz
Super Reviewer
What can I say? This and "The Sixth Sense" seem to be M. Night (I'm gonna murder this guy's last name) Shamlayn's only good movies. This movie isn't your average alien invasion movie. It's a story with symbolism encrypted in the plot. Mel Gibson plays a former preacher who has lost on faith in God ever since his wife was killed a tragic accident. He has to raise his two children with the help of his brother played by Jaqouin Phoenix. The acting in this movie is solid. Say what you want about Mel Gibson, but the guy knows how to act. Phoenix is very good in his role and the child actors were also really convincing. M. Night Shamdada even makes a cameo as the guy who accidentally killed Mel Gibson's wife. (That dick.) There is one scene in this movie that scared me to the point experiencing many sleepless nights. (I was like 7, don't judge.) If you haven't seen the movie, I won't explain a lot about that scene, but let's put it this way: Those poor Brazilian kids will never have a birthday party the same way again. Some parts of this movie seemed incredibly drawn out and forced and some scenes near the end felt really slow and the writers didn't know what they wanted to do. But that should be expected in an M. Night Shamaladamn movie. This movie also requires a sharp mind. Some parts of the movie that are minor and seem pointless eventually play out to be important to the plot, so be on the lookout for those. All in all, this was a very entertaining and enjoyable film. The story was subtle, but in a very good way. It was directed in a way that only M. Night Shamackadonaroopashire could pull off, despite him making a lot of really crappy movies lately.
Tyler Robertson
Super Reviewer
Signs Quotes
| | |
| --- | --- |
| Graham Hess: | "Caroline, please stop calling me Father" |
| Graham Hess: | Caroline, please stop calling me Father. |
| Officer Caroline Paski: | "What's the matter?" |
| Officer Caroline Paski: | What's the matter? |
| Morgan Hess: | "I can't hear my children." |
| Morgan Hess: | I can't hear my children. |
| | |
| --- | --- |
| Bo Hess: | There's a monster outside my bedroom. Can I get a glass of water? |
| | |
| --- | --- |
| Graham Hess: | It's happening... |
| | |
| --- | --- |
| Ray Reddy: | I've never fallen asleep while driving before. It had to be at that right moment. That 10-15 seconds when I passed her walking. It's like it was meant to be. |