Silent Fall
(1994)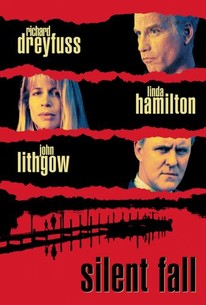 Movie Info
This by-the-numbers psychodrama about a child psychologist trying to discern the truth behind a pair of murders stars Richard Dreyfuss as Dr. Jake Rainer, a child psychologist living in an upscale community. Rainer retired when a patient committed suicide, but the local sheriff (J.T. Walsh) calls him to the scene of a double murder. In a lavish home, Rainer meets Tim Warden (Ben Faulkner) and his sister Sylvie (Liv Tyler, in her feature film debut), whose parents have been brutally slain. Sylvie hid in a closet and didn't see the killer, but Tim, who is autistic and cannot communicate, witnessed the crime. Rainer starts the complicated process of reaching Tim through gentle psychological techniques based on his theory that autistics think in sequences, while a colleague (John Lithgow) simply wants to drug the child into revealing the killer's identity. The real-life son of child psychologists who worked with autistic children, Silent Fall screenwriter Akiva Goldsman had better success with his first film, an adaptation of The Client (1994), a drama with a similar plot and themes.
Critic Reviews for Silent Fall
Audience Reviews for Silent Fall
A tortuously constructed plot which relies on utterly unrealistic plot contrivances and whose ultimate solution is painfully obvious far too early.
Lee Mayo
½
very moving and sad.. the suspense was intimate.. one of my mother's picks so didnt pay much attention .. i might have to watch it again.
C.G. Carrillo
½
Starts off strongly with a very palpable sense of mystery that immediately grabs the viewer's interest... but then it becomes obvious and not as intriguing as its start. Solid performances and slick direction but the script isn't as clever as it wants to think it is... Mystery fans may want to give this a rental, others should just rent Hitchcock's "Spellbound" instead.
David Schwenker
Silent Fall Quotes
There are no approved quotes yet for this movie.
Discussion Forum
Discuss Silent Fall on our Movie forum!