Sing Street
(2016)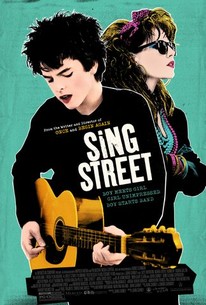 TOMATOMETER
AUDIENCE SCORE
Critic Consensus: Sing Street is a feel-good musical with huge heart and irresistible optimism, and its charmimg cast and hummable tunes help to elevate its familiar plotting.
Movie Info
From director John Carney (ONCE, BEGIN AGAIN), SING STREET takes us back to 1980s Dublin seen through the eyes of a 14-year-old boy named Conor (Ferdia Walsh-Peelo) who is looking for a break from a home strained by his parents' relationship and money troubles, while trying to adjust to his new inner-city public school where the kids are rough and the teachers are rougher. He finds a glimmer of hope in the mysterious, über-cool and beautiful Raphina (Lucy Boynton), and with the aim of winning her heart he invites her to star in his band's music videos. There's only one problem: he's not part of a band...yet. She agrees, and now Conor must deliver what he's promised - calling himself "Cosmo" and immersing himself in the vibrant rock music trends of the decade, he forms a band with a few lads, and the group pours their heart into writing lyrics and shooting videos. Inspired by writer/director John Carney's life and love for music, SING STREET shows us a world where music has the power to take us away from the turmoil of everyday life and transform us into something greater.
News & Interviews for Sing Street
Critic Reviews for Sing Street
Audience Reviews for Sing Street
½
An under-the-radar, tour de force that's vibrant and meaningful. Sing Street strikes the right chords with its ambitious originality, adventurous tone and sentimentality for the rebellious hearts in all of us; not to mention its salutations to the UK music scene in the 80s. 4.5/5
Eugene Bernabe
Super Reviewer
"We can have a show, just us, right here!" This is yet another reenactment of that filmic musical musing, this time in Dublin. Where it succeeds is in that it doesn't fall flat, as so very many do.
Kevin M. Williams
Super Reviewer
Director John Carney knows exactly how to mesh storytelling and music into his films. In both of his most well-known feature films, Once (which is still one of my favourite romances to this day) and his more mainstream Begin Again, there was a certain level of electricity between the characters, unlike most films. He has proven himself as one of the best directors around today, as far as characters and performances go. Sing Street is absolutely no exception to that fact and may just be the best film I will see all year. Filled with music that will make you tap your feet and lyrics that will have you in tears, lets talk about why Sing Street is awesome, beautiful, hilarious, and emotional, all at once. Taking place in the 1980's, Sing Street follows Conor, played spectacularly well by newcomer Ferdia Walsh-Peelo if I might add, as he he bullied around at a new school. Finding a few friends that are just like him, he takes his brothers advice in starting a band. Taking elements from bands like Duran Duran or Depeche Mode, they form their own futuristic genre. The band is started due to his interest in a girl, but their friendship is unlike anything I have seen in film this year. Their chemistry is off the charts and their performances as these teenagers are fantastic. On top of all this, the original music written for this film and played throughout, is absolutely perfect. Yes, the cast in terrific, and yes the story works very well, but the main reason this film is so much fun to watch, is the fact that each and every song tells a story. Although you get everything you need through the character interactions, the music played a few scenes after an emotional moment occurs, allows you to dive in even deeper into their mind. There is some awesome rock to bop your head to, some slow rock to make you tear up, and a climactic finale with enough music to satisfying both. Having Sing Street take place in Dublin, giving every cast member an accent, is not something you see released worldwide, but I could not be happier that it was. This film needs to be seen. Dealing with many elements, including bullying, divorce, friendship, love, and what it truly means to do something with your life, Sing Street balances everything very well. Being able to establish many messages that it will try to accomplish in the first act, nearly every single one of them is done to perfection. This film had me in tears on multiple occasions, whether the message was being delivered through an emotional song or just a choice made by a character you have come to care about. Sing Street is a much deeper, and more fun film that its promotional material suggests. Sing Street is the rare film that meshes romance, friendship, and life issues all into one, while also being a fast paced film with a lot more to say than, hey we have cool music in our movie so you better like it. I loved everything about this film from start to finish. From its masterful to direction, to its believable and loveable character, to its fantastic music, Sing Street is a film that should be on your radar if it already wasn't. Sure, there may be a few average moviegoers that are turned off by its offbeat tone, but to me, this is why film exists. There are still many more films to see this year, but at this moment, I do not see anything topping Sing Street. A True work of filmmaking art.
Sing Street Quotes
| | |
| --- | --- |
| Brendan: | No girl can truly love a man who listens to Phil Collins |
| Brendan: | No girl can truly love a man who listens to Phil Collins. |
Discussion Forum
Discuss Sing Street on our Movie forum!