Sisters
(1973)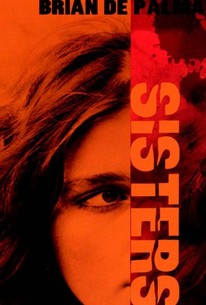 TOMATOMETER
AUDIENCE SCORE
Critic Consensus: Clever yet clearly indebted to the masters of the genre, Sisters offers an early glimpse of De Palma at his stylishly crafty peak.
Movie Info
Reporter Jennifer Salt thinks she has witnessed a murder; apparently, Margot Kidder is the killer and Lisle Wilson is the victim. By the time the authorities arrive on the scene, there is not one scintilla of evidence. With a private eye's help, Salt gets to the bottom of things.
News & Interviews for Sisters
Critic Reviews for Sisters
Audience Reviews for Sisters
½
Brian DePalma has often been accused of plagiarizing Hitchcock and there is little doubt that 'Sisters' was heavily influenced by the master of misdirection, but that doesn't prevent it from being a sly, punctilious sleeper in DePalma's oeuvre. Before she was diagnosed with mental illness offscreen, Margot Kidder portrayed an innocuous demeanor onscreen and she is flawlessly cast as Danielle, a somewhat promiscuous model with an outrageously garbled French accent. As much as an exercise in florid style as a murder mystery, DePalma utilizes his vintage cinematic array of split-screens, point-of-view shots and fish-eye lens (William Finley is especially frightening with this technique) for truly unsettling results. A scene where a carcass is concealed inside a couch is neoclassic Hitchcock due to the doses of black comedy since the audience is acutely aware of it while the neighbor and police officers frantically scour the apartment for it. The womb opening set to an operatic Bernard Herrmann (of 'Psycho' notoriety) score is rather chilling. Once 'Sisters' flashbacks to an expository Siamese-removal sequence, viewers might be exasperated by the self-indulgent nature of the storytelling. On the other hand, DePalma's tart staging is the reason that the otherwise cloak-and-dagger plot works like gangbusters in the first place. 'Sisters' was one of DePalma's first excursions into psychosexual territory and it can construed as one of his best.
Cory Taylor
Super Reviewer
½
Certain aspects of this thriller were tailor made for me: convoluted backstory with an element of supreme weirdness, blood splatter during a murder sequence, and camera angles and cinematography vacant from 70's cinema. DePalma is undoubtedly a genius when it comes to building suspense, but the bitter truth is that Sisters just doesn't contain a juicy enough payoff. Sure, Siamese twins are a goldmine of psychological drama, but in the off kilter way it was used, nothing comes out of this hour and a half ride through the apparent ravaged mind of none other than Margot Kidder. (Just try watching this without thinking about Lois Lane.) The fact that reporter Grace Collier (Salt) is trying to unearth the tragic circumstances of a surgery gone awry would have worked if not for her involvement in a strange hypnosis performed by Kidder's ex-husband, supposedly to exorcise her demons after she murders her date (not a spoiler). Between Kidder's raging French Canadian accent, Salt's flimsy acting, and a strange turn for legend Charles Durning, it could have had its moments. It was the last twenty minutes, where everything is mysteriously explained in a flashback that is actually a dream that is actually just stupid. Good to see another DePalma, but not his best work.
Spencer S.
Super Reviewer
I have always been divided on DePalma. I find Scarface an overrated disaster and Mission Impossible forgettable, but know that he is held in high regard by some directors that I respect. Unsettled by my inability to compartmentalize him in my mind, I have decided to go back and check out some more of his earlier work. After starting with Sisters, I can now see that I may be in for quite an uncompromising journey. Sisters is a smorgasboard of influences. I can see why some people see DePalma as a modern day Hitchcock, as half of this film feels like the lovechild of Rear Window & Rope with a little dash of exploitation thrown in there. However, this description is more satisfying than the actual film as it is prone to fly off of the handle and often wonders off into the absurd. Maybe that is the tone he was going for. Is this supposed to be a very black comedy? I am willing to accept the fact that maybe I am not yet accustomed to DePalma's work and maybe the tone flew right over my head. This doesn't mean that I didn't get anything from the film. The split-screen segment is really well structured and one can not help but be amazed at how easy he makes it look. He is clearly a competent director with the right influences guiding him, I guess I just wonder in the end what he is really trying to accomplish. The film feels muddled and lacking a real focus. In fact, it making it difficult to write a review about it, so I am just going to stop.
Sisters Quotes
| | |
| --- | --- |
| Emil Breton: | To Danielle before police arrive," Put on some makeup. It must look as though nothing has happened. |
| Emil Breton: | To Danielle before police arrive. Put on some makeup. It must look as though nothing has happened. |