Snakehead Terror
(2004)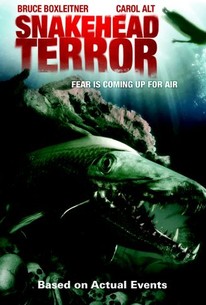 AUDIENCE SCORE
Critic Consensus: No consensus yet.
Movie Info
Cashing in on the real-life influx of pesky "snake-head" fish in Midwestern lakes, this inexpensive sci-fi epic is set in a small Maryland fishing community called Cultus Lake. A dangerous strain of mutated snakeheads has decimated the lake's fish population, whereupon Doc Jenkins (played by X-Files' William B. Davis, aka "Cigarette-Smoking Man"), the shady owner of a nearby chemical plant, fills the water with pollutants to kill off the invaders. At the same time, the local leaders, desperate to pull Cultus Lake out of a severe financial slump, has dumped human growth hormones in the lake to improve the stock. You guessed it: Both the chemicals and hormones succeed only in making the snakeheads even larger and more ferocious--and worse still, they are now leaving the lake and crawling around on dry land, in search of human blood! Caught in the middle of the crisis is Sheriff Patrick James (Bruce Boxleitner) and the standard-issue beautiful female biologist Lori Dale (Carol Alt). An amalgam of every cheesy CGI effect ever seen on the many Jaws ripoffs that have proliferated as made-for-cable and direct-to-video thrillers, Snakehead Terror received its biggest audience when it was telecast by the Sci-Fi network on March 13, 2004.
Critic Reviews for Snakehead Terror
There are no critic reviews yet for Snakehead Terror. Keep checking Rotten Tomatoes for updates!
Audience Reviews for Snakehead Terror
½
An OK SyFy flick with weak thrills and gore.
Jacob Palacio
Super Reviewer
Like Piranha but with the reveal at the end of the movie instead of the beginning. Oh and not funny and no nudity, lame.
Ken Stachnik
Super Reviewer
A Sheriff trying to get over his dead wife, an annoying reporter who wnats the big scoop, a mayor who refuses to believe the truth as it may harm the towns businesses. It's camp, it's cheesy and it steals scenes from Jaws without a second thought. It's a load of old tat with my favourite scene being when a car swerevs out of control and hits a tree one door just so happens to spring open tolet the monster fish in. The monsters when either CGI or puppet are very bad and the actors have no sense of fun. And let us not forget the annoying teens who decide to kill the fish themselves because they don't believe the police can, silly Wabbits.
Luke Baldock
Super Reviewer
Snakehead Terror Quotes
There are no approved quotes yet for this movie.