Snoopy, Come Home
(1983)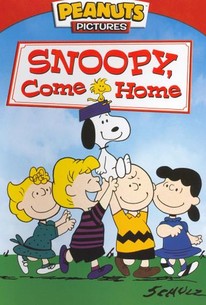 Movie Info
This second feature film based on Charles Schultz's charming, unpretentious Peanuts comic strip is a vast improvement over the first film, A Boy Named Charlie Brown (it doesn't have the Rod McKuen music, for one thing). Snoopy, Come Home centers upon the adventures of Charlie Brown's pet beagle, Snoopy, and his tiny, yellow pal, Woodstock. When Snoopy's original owner Lila is hospitalized, the two take-off to comfort her. Back home, Charlie Brown is being ribbed by his friends because of the revelation that Snoopy had a previous owner ("You've got a used dog, Charlie Brown!" one child cries). All of this leads up to a fateful decision for Snoopy -- which owner will Snoopy choose to live with?
News & Interviews for Snoopy, Come Home
Critic Reviews for Snoopy, Come Home
Audience Reviews for Snoopy, Come Home
½
Ridiculed by everyone, this Peanuts adventure centres in on Snoopy as he fleas from his home with Charlie Brown when he finds out that he has an original owner in the hospital. In this very brutally honest feature, we follow a dog on how it is forbidden to enter any public place in town as he searches for his previous owner. This is a very sad film at it's core, but a beautiful one as well. Very well-drawn, very well-scripted for the film that it is, and characters that will put a smile on your face, this second Charlie Brown feature, "Snoopy, Come Home," is one for the ages. I highly recommend it to any fans of these characters or any parents looking to show their kids a cartoon with so much more to offer than nonsensical scenes. A terrific film for everyone!
A genius musical that I always love watching.
Jim Careter
Super Reviewer
½
This was a decently cute movie and all but there just wasn't enough Charlie Brown and co. in it to completely pull me in. Snoopy IS adorable but I don't want to watch him traipsing around town for an hour doing nothing but laughing/crying. I think I prefer Linus's soliloquys and Charlie Brown's insecurities to anything else Peanuts can give me. The TV spots still remain the best out of the bunch.
Jennifer Xu
Super Reviewer
Snoopy, Come Home Quotes
There are no approved quotes yet for this movie.