So I Married an Axe Murderer
(1993)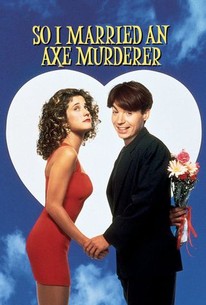 So I Married an Axe Murderer Photos
Movie Info
Comic actor and former Saturday Night Live stock player Mike Myers attempted to transform himself from the goofy title character in Wayne's World (1992) (and its sequel) into a romantic leading man with this box office disappointment. Myers stars as Charlie Mackenzie, a San Francisco poet who meets the girl of his dreams, Harriet Michaels (Nancy Travis) when he stops to pick up some haggis for his parents at Meats of the World, a butcher shop where Harriet works. Although he's been neurotically commitment-phobic in the past (dumping one girlfriend because she "smelled like soup"), Charlie thinks Harriet could be the one. That is, until his mother May (Brenda Fricker) and cop best friend Tony (Anthony LaPaglia) begin to suspect that Harriet could be an axe-wielding serial killer who has butchered several husbands. Harriet's wacky sister Rose (Amanda Plummer) and her connection to several of the slayings make Charlie nervous, but he nevertheless pops the question, leading to an eventful honeymoon where all is revealed. Although So I Married an Axe Murderer (1993) earned less than $12 million at the U.S. box office, Myers hit upon the Peter Sellers-inspired formula of playing various supporting characters with this film, portraying Charlie's amusingly paranoid father Stuart. The actor repeated the trick with greater success in Austin Powers: International Man of Mystery (1997) and its sequel. ~ Karl Williams, Rovi
People Who Like this movie also like
Critic Reviews for So I Married an Axe Murderer
Audience Reviews for So I Married an Axe Murderer
To Be honest its not brilliant but its a pretty decent film and its quite amusing and i guess its worth a watch
Film Crazy
Super Reviewer
½
Harriet Michaels: Do you actually like haggis? Charlie Mackenzie: No, I think it's repellent in every way. In fact, I think most Scottish cuisine is based on a dare. Mike Myers is the star of a fairly decent movie in terms of its story, but its made better due to the numerous cameos and a particular character Myers also stars as. Harriet Michaels: What do you look for in a woman you date? Charlie Mackenzie: Well, I know everyone always says sense of humor, but I'd really have to go with breast size. Myers plays Charlie, a coffee shop owner and poet in San Francisco who happens to meet the most beautiful Butcher of all time played by Nancy Travis. While initially finding himself instantly smitten with her, his past fears of commitment really take a toll when he becomes suspicious that his girlfriend may in fact be a serial killer. Its a romantic comedy with a twist, but that's just the main plot. Myers does a good enough job as the straight lead character, providing enough one-liners along the way, including his ridiculous poems. John Johnson: My name is John Johnson but everyone here calls me Vicki. The real joy comes from the supporting characters. Myers' also plays his own father who is hysterical. Stuart Mackenzie: I'm not kidding, that boy's head is like Sputnik; spherical but quite pointy at parts! Now that was offside, wasn't it? He'll be crying himself to sleep tonight, on his huge pillow. There are also little parts from Phil Hartman, Alan Arkin, Steven Wright, Michael Richards, and Charles Grodin that all fill in fun in their little moments. Its not doing anything special in terms of breaking romantic comedy ground, but I've seen this a lot and still find it enjoyable. It has a lot of good laughs due to it actually being funny opposed to the recent work from Myers - Love Guru. Stuart Mackenzie: Well, it's a well known fact, Sonny Jim, that there's a secret society of the five wealthiest people in the world, known as The Pentavirate, who run everything in the world, including the newspapers, and meet tri-annually at a secret country mansion in Colorado, known as The Meadows. Tony Giardino: So who's in this Pentavirate? Stuart Mackenzie: The Queen, The Vatican, The Gettys, The Rothschilds, *and* Colonel Sanders before he went tits up. Oh, I hated the Colonel with is wee *beady* eyes, and that smug look on his face. "Oh, you're gonna buy my chicken! Ohhhhh!" Charlie Mackenzie: Dad, how can you hate "The Colonel"? Stuart Mackenzie: Because he puts an addictive chemical in his chicken that makes ya crave it fortnightly, smartass!
Aaron Neuwirth
Super Reviewer
½
This guy always falls for the wrong girl. This time he thinks he's married a killer.
Candy Rose
Super Reviewer
So I Married an Axe Murderer Quotes
| | |
| --- | --- |
| Stuart Mackenzie: | It looks like Sputnik! Spherical, yet pointy at parts. |
| | |
| --- | --- |
| Charlie Mackenzie: | She was a thief, you gotta belief, she stole my hearty and my cat. |
Discussion Forum
Discuss So I Married an Axe Murderer on our Movie forum!