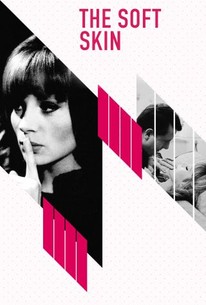 The Soft Skin
1964, Romance, 1h 50m
28 Reviews
1,000+ Ratings
Where to watch
Rent/buy
Subscription
Rent/buy
Rate And Review
Movie Info
While flying to Lisbon, Portugal, to give a lecture, a writer and magazine editor, Pierre Lachenay (Jean Desailly), encounters an attractive flight attendant, Nicole (Françoise Dorléac), and winds up spending the night with her. What was intended to be a one-night stand becomes a tumultuous extramarital affair once he gets back to Paris and his wife (Nelly Benedetti) and kids. Pierre tries to keep the affair secret, but, when his wife suspects him, she snaps.
News & Interviews for The Soft Skin
Audience Reviews for The Soft Skin
<i>This review contains spoilers.</i> Holy shit, what a conclusion, Pam Grier style!! Truffaut is an uneven auteur from the Nouvelle Vague. Instead of showing an evolution in his filmic style and vision, he has both positive and negative slopes in the consistence of his quality, like a random time series with no tendency. It's not a law that all filmmakers must develop a slope, but it is curious how he kept falling and then redeeming himself with the most contradictory projects, from the groundbreaking <i>The 400 Blows</i> (1959), to his Godard-esque <i>Shoot the Piano Player</i> (1960), to an adaptation of Ray Bradbury in American soil, to plots with Hitchcockian elements, and it goes on until the 80s. This is, perhaps, the beginning of what would be his most authentic hommage to Hitchcock in 1968 with Jeanne Moreau as a sexy femme fatale. If I had to count the number of love triangles that were made during the French New Wave and its derivatives, I would need more than four hands. This is an uneven project, maybe slightly prolonged given the simplicity of its main plot, perhaps too preoccupied to showcase the mandatory trademarks of the French movement: references to cinema (look out for a reference to Cocteau), monologues discussing the literary form, cars driving during the night, a love triangle, beautiful women, psychoanalitical comments on sexuality... You get the drift. This is, of course, an affair that is worth watching because, despite its predictable melodrama that resembles your average American romance classic depicting affairs, the extramarital relationship is handled differently, and it ends up with a bang (like literally, lol). Maybe it is too radical in some depictions and behaviors. The ending is just ridiculous; nothing before it justified a Coffy-like ending. It could have also explored more deeply the possibility that the husband was so eager to fix his mistakes, that his means would have been subject to a discussion. But no. He gets SHOT. Lol. I can't believe it. How am I supposed to react? I'm laughing while writing this. Maybe in <i>The Bride Wore Black</i> (1968) I would have bought any Tarantinian display of violence and revenge more easily, but hell, not here, haha. Worth watching? Maybe for the ending it is, more than just for the sake of belonging to the French movement! 74/100

"The Soft Skin" is a beautifully shot tragedy, featuring nuanced performances from Jean Desailly and Françoise Dorléac plus Georges Delerue's exquisite score (melancholy flute everywhere). But did such a simple story really need to be stretched to 113 minutes? This film could have been 20 minutes shorter, easy. Desailly plays a celebrity author who's much in demand on the lecture circuit. He has a wife and a young daughter. He meets stewardess Dorleac during a flight to Lisbon. They begin a loving affair, but we know it's only a matter of time before his wife finds out and raises a ruckus. Really, that's just about the whole plot. "The Soft Skin" has only three substantial characters and a standard story, yet somehow it extends to nearly two hours. Blame this on too many belabored depictions of eating, drinking, driving, phone calls, hotel check-ins and trivial conversation. And yet despite the leisurely pace, the script communicates almost nothing about why the lovers are so drawn to each other. We know that he's famous and she's gorgeous, and that such surface traits could create a mutual attraction. Anything else?
See Details