Solas (Alone)
(2000)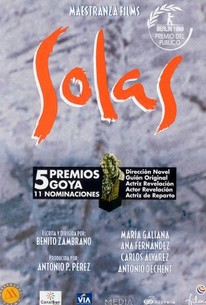 Movie Info
Maria cannot stand her father's authoritarian ways and moves to the city. She becomes pregnant, and her mother soon comes to stay with her. Her neighbor, a recluse, begins to come out of his shell and these three lost souls try to give each other the strength to start over.
Critic Reviews for Solas (Alone)
Audience Reviews for Solas (Alone)
½
Nice movie. I have to say, I found this very touching for most of the film. The ending, however, just seemed sudden...one of those that just makes it feel like they ran out of time, or ideas. What a shame...
Cynthia S.
Super Reviewer
½
Nice little movie about relationships. It depicts how an old woman from the village fits herself for her short stay in the city at her daughter's house, the bond she develops with her daughter's neighbor in the process, & how her daughter deals with her frustrated life. It tends to be realistic for most of the part, & the characters are the types one could connect to. The conversations also seem as if lifted from day-to-day life. It's this execution that makes this movie so watchable, despite of its simplicity. However, while it maintains to be rational & practical for most of the part, the ending is rather traditional one & disappointed me a bit. But that's no excuse to unlike a movie that kept me hooked to my couch for the rest of the part. All the actors are new to me, but one & all of 'em were excellent. Finally, while I don't think it's a movie I'd like to visit time & again (or, is it too early to say that??? Will update this if my thoughts ever change regarding it), it surely was a worthwhile experience for this once.
familiar stranger
Super Reviewer
Solas was a beautiful movie showing some mixed affairs between these dysfunctional families.It started very slow in the beginning but progressed very moving and touching as the characters started to develop.Solas showed a lot of emotions through the power of the well acted performances by all characters.The movie had a depressive mood, María had alcohol addiction and the hospital scenes with the not friendly father was also very disturbed. Rosa, who played Maria;s mom was such a nice person,she sacrificed her entire life to serve her abusive husband. Director Benito Zambrano had done a great job here,showing us reality in this terrific movie..
Daisy Maduro
Super Reviewer
Solas (Alone) Quotes
| | |
| --- | --- |
| Maria: | Here, there's no one to talk to. You end up holding it in. And it burns up your gut. |
| | |
| --- | --- |
| Maria: | People should be born twice. Once rich and once poor. So that the rich will know poverty and the poor can enjoy life. |