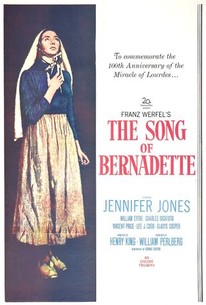 The Song of Bernadette
1943, Drama, 2h 36m
17 Reviews
2,500+ Ratings
Where to watch
Rent/buy
Rent/buy
Rent/buy
Rate And Review
The Song of Bernadette Photos
Movie Info
Based on the popular novel by Franz Werfel, this drama focuses on Bernadette Soubirous (Jennifer Jones), a young French woman who experiences vivid visions of the Virgin Mary. While many dismiss her claims, certain people, including the priest Dominique Peyramale (Charles Bickford), slowly begin to believe her. Eventually, Bernadette is deemed a saint, and becomes a nun at a convent, where she must deal with jealousy from others who resent her revered status.
Audience Reviews for The Song of Bernadette
Jennifer Jones' portrayal of a young woman encountering the Virgin Mary at Lourdes is meant to be inspiring but nowadays gives a performance that makes you think she is looking for the Great Pumpkinhead. Ultimately believers are going to believe and skeptics will be skeptics. This film won't change any of that.

I loved this movie, it's one of my favourite movies about saints. Jones gives a fantastic performance, and you get to see Vincent Price in an early small role. It's such a great story, and it's true!

years ago, local television in chicago, a town heavy with catholics, made a big deal out of a film representation of the miracle at lourdes, france, something i had never heard of or knew about. the lead actress demonstrated through the story the power of simple faith...and i learned from that performance, i learned about the power of art to transform lives. and the lead actress, in the meager performance of her duties, lead that class in my book. she died today, 12-17-2009, Jennifer Jones, and i never got the chance to personally thank her. thank you, Jennifer.

Fictionalized lives of well-respected names (usually) start off promising and by the end,a feeling of unaccomplished desire destroys the viewing pleasure. Bernadette Soubirous must have been a diligently eloquent woman whose firm beliefs of her visions were part of her level-headed character.King's adaptation from Werfel's historical novel of the eponymous saint possesses the romanticized elements of a Hollywood film with a small dose of maleficent antagonists / unrequited love but that doesn't remove the strong components of Jones' acting and the wonderful production design and supporting cast.
See Details