Southern Baptist Sissies
(2014)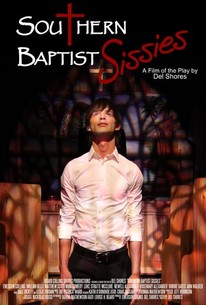 AUDIENCE SCORE
Critic Consensus: No consensus yet.
Southern Baptist Sissies Videos
Southern Baptist Sissies Photos
Movie Info
Southern Baptist Sissies is a film of the theatrical experience of writer/director Del Shores' GLAAD Award-winning play about four gay boys growing up in the Southern Baptist church. It explores the conflict between the caustic rhetoric of dogmatic religion and the fragile development of adolescent homosexuality while challenging hypocrisy, exposing damage and offering hope. The intimate experience of theatre on the film screen reveals the complicated emotions from all sides - the confused child, the struggling adolescent and the angry and damaged adult. (c) Beard Collins
Critic Reviews for Southern Baptist Sissies
Audience Reviews for Southern Baptist Sissies
For some reason, I had been expecting a comedy musical in the style of The Book of Mormon. Boy -- was I wrong! This is a serious play (with many comedic moments) about the isolation of gays in society and injustice imposed by religion. It is undoubtedly the most effective translation of a live play to film that I have ever seen, and for that, the director gets big points. Although I was slow to warm to it, I did eventually become invested in the characters and was moved nearly to tears by the end. It has an excellent script with some very fine acting, particularly from the veteran actors. I recommend this film to those who are not uncomfortable with challenging their beliefs, culture and religion.
Christian C
Super Reviewer
Excellent film for most gay men who grew up raised as Southern Baptists. The emotional turmoil and struggles depicted perfectly. Funny and sad, just a great movie with a powerful message.
Eric Kurten
NOT sure what's wrong with the star rating system on here try to give it maximum stars but only 2 showed up If you haven't seen SORDID LIVES then SEE it if you have then you know what a TREAT you are in for with this wonderfully acted moving very funny movie. FIlmed live during 4 separate performances and then some extra shooting to get it all flowing smoothly it was a pleasure to finally see a movie with NO CGI, car chases, extreme violence or endless fight sequences between to super heroes neither of whom can be defeated. It was touching, moving and at time HYSTERICALLY funny. The acting by everyone was outstanding and whilst no one deserves more credit han anyone else WILLIAM BELLI was FANTASTIC. He does his own singing as is really REALLY good. The irony is that in the movie he says I don't lip sinc but the performance was so good that it looked as tho he was lipsycing BUT he wasn't and he is WOW!!!!! This movie made me laugh made me cry and made me glad I went to see it I will be going again. Sordid lives became a cult phenomena in Palm Springs running continuously for 2 years I can see Southern Baptist Sissies creating the same kind of following I know I'm off to see it again. Can'r wait for the DVD
john eland
Southern Baptist Sissies Quotes
There are no approved quotes yet for this movie.
Discussion Forum
Discuss Southern Baptist Sissies on our Movie forum!