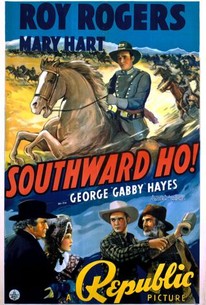 Southward Ho!
1939, Western, 57m
0 Reviews
Fewer than 50 Ratings
Where to watch
Subscription
Rate And Review
Movie Info
A singing cowboy (Roy Rogers) and his sidekick (George "Gabby" Hayes) fight post-Civil War plunder in Texas.
There are no critic reviews yet for Southward Ho!. Keep checking Rotten Tomatoes for updates!
Audience Reviews for Southward Ho!
This is a very early Roy Rogers Film, 1939 he was so young. I think this is the first movie that Roy appeared with Gabby Hayes, this would be the start of a great team for many years to come. Gabby always looked the same Old and Funny. In this movie Roy and Gabby are actually Conferate Solders. They come across a small group of Union (Yankee Blue Coats) Solders and while Roy rides to distract the group Gabby steals a chicken that?s cooking from the Union Coronial. Well soon after the war is over and its back to Texas to live on the ranch that his grandma left him ½ of. But he soon finds out the other half is left to the Union Coronal (Grandma where do you know the Coronial from). And the coronial daughter is the beautiful Mary Hart. The Colonel is put in charge of getting taxes from the citizens of Texas to help the state rebuild, Marshall Law is even declared and the citizens are forced to give up there guns, my what Mr. Joseph Kane knew back then.. Well there is a little singing, some fights and chase scenes everything that makes a old time western a western. Its worth adding, but hard to give a 1939 Movie any more then 3 stars.
See Details