Speed Racer
(2008)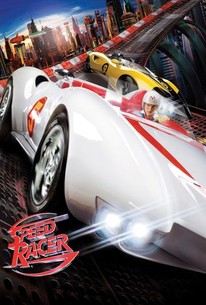 TOMATOMETER
AUDIENCE SCORE
Critic Consensus: The Wachowski Brothers have overloaded Speed Racer with headache-inducing special effects, and neglected to develop a coherent storyline.
Movie Info
In the world of violent, high-speed racing, brothers Rex and Speed Racer become rivals as powerful racer Mondragan manipulates their careers in order to kill them both during the world championships, but the brothers learn its all just an act of vengeance against Pops Racer, who caused the death of Mondragan's father in a race long ago.
News & Interviews for Speed Racer
Critic Reviews for Speed Racer
Audience Reviews for Speed Racer
Speed Racer is a film that upon initial release polarized audiences due to its story, performances, dialogue and visual style. However, visually, this film is a real treat. To be honest, I wasn't sure what to expect from this film, but I came out of it surprised. Speed Racer is a film that pure entertainment value from start to finish, if you enjoy films that are visually appealing, then this is a film for you. Sure, I agree that the film is over stylish, but that's a good thing. Although the script does seem a little rocky at times, the payoff comes in the races themselves. Overall this is a fun, entertaining film that is underrated, and it definitely deserves more praise just for the creativity alone. If you enjoy a good, effective and captivating picture, this film is worth seeing. Keep an open mind, it's a film that deserves much more recognition than it deserves. Sure, it's a flawless masterwork of cinema, but it's nonetheless a worthwhile and memorable viewing experience that anyone can enjoy if you're in the right frame of mind. The film's strong points are the visuals, races and overall look at the film, its flaws are in the dialogue and sometime cheesy performances, but really all that goes out the window because of its entertainment value. Speed Racer is a film that works well because its cast are good, and the direction is effective enough to grab your attention. Although it's not perfect, the film is well worth your time if you're looking for a pleasant visually charged time waster to watch. Upon seeing the film, I was surprised that mainstream critics couldn't see the merit in such a movie. Speed Racer deserves far more credit than it deserves, and most importantly, it deserves a second look.
½
The Wachowski Bros trade in the cleverness and storytelling for fast-paced racing and typical nonsense. Speed Racer is a visually a remarkable adaptation of the television series, but could be improved in many many different ways with its flat story and simplistic performances from its ensemble. 2.5/5
Eugene Bernabe
Super Reviewer
I hate saying this, but I find myself liking every bit of this movie! Im still trying to figure out why, but I love the style and the heart that goes itno this very odd Hot Wheels-like motion picture. Taking the classic kids show and making this almost seemed like an unforgettable thing, and that is exactly what happened, but unusually in a good way. I really enjoyed watching "Speed Racer", because it is the most fun I have had with a movie in a long time. It's not a great film in any way, but the story is very good and the action took risks that I have never seen a film take before. This is a very fun film to watch, and I recommend it solely for that.
Speed Racer Quotes
| | |
| --- | --- |
| C.I.B. Security Man: | I'm sorry to disturb you sir, but do you know these people? |
| Speed: | [leans over to see his family and a very angry Pops Racer] Yeah... |
| | |
| --- | --- |
| Speed: | Get that weak shit off my track! |
| | |
| --- | --- |
| Trixie: | Was that a ninja? |
| Pops: | More like a nonja, terrible what passes for a ninja these days. |
| | |
| --- | --- |
| Mom: | I don't go to watch you race...I go to watch you make art. |
| Mom: | I don't go to watch you race, I go to watch you make art. |
Discussion Forum
Discuss Speed Racer on our Movie forum!