Spine Tingler: The William Castle Story
(2007)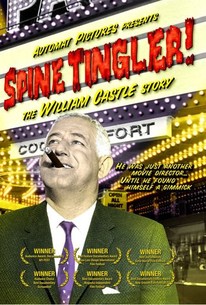 Spine Tingler: The William Castle Story Photos
Movie Info
Over the course of a Hollywood career that spanned five decades, William Castle directed dozens of movies and earned a reputation as a clever hand with a low-budget thriller, but the movies he made aren't always as well remembered as the way he sold them to the public. During the Fifties and Sixties, Castle was one of Hollywood's greatest and most shameless showmen, and he achieved some of his greatest box office successes with movies promoted with outlandish gimmicks. Castle's reign as the King of Gimmicks began with 1958's Macabre, in which he gave each member of the audience a $1,000 insurance policy against being scared to death by the film. With his next release, 1959's House on Haunted Hill, theaters were equipped with "Emergo," in which a plastic skeleton would fly through the theater on wires at certain moments in the action, and for The Tingler, released later the same year, seats were wired with electrical buzzers to give patrons a shock as "materialized fear" stalked the screening room. While Castle later took up more respectable projects -- most notably producing Roman Polanski's film Rosemary's Baby and collaborating with famous mime Marcel Marceau on the bizarre fantasy Shanks -- his playful, gimmicky horror films are still remembered by film fans today, and Jeffrey Schwartz pays homage to his life and career in the documentary Spine Tingler!: The William Castle Story. In addition to clips from many of Castle's movies (as well as their trailers, many of which featured the director explaining his latest gimmick to prospective patrons), Spine Tingler! includes interviews with a number of fans and fellow filmmakers, including John Waters, Joe Dante, Leonard Maltin, Roger Corman and John Landis; the film received the audience award at the 2007 American Film Institute Film Festival.
Rating:
NR
Genre:
,
Directed By:
Written By:
In Theaters:
On DVD:
Runtime:
Studio:
Critic Reviews for Spine Tingler: The William Castle Story
Audience Reviews for Spine Tingler: The William Castle Story
I was introduced to Castle with the classic shocker "The Tingler", a movie about a parasite that dwells in us all and is responsible for the sensation of fear that creeps up your spine. The genius of Castle was taking such schlock films and then adding a gimmick to make the cinema experience unique. Wit The Tingler he installed vibrating chairs in the cinema to jolt the audience at the right moment.. and that was just one example. This documentary gives more on the man and his method and raises the profile of a once infamous mind.
Mark Nash
Wow, this is an incredible fast-paced documentary. It?s basically one of those docs that you get in the special features of a DVD?the usual talking heads (Leonard Maltin, John Landis, Jon Waters), a couple seconds of footage from each important film, and lots of computer graphics to slick things up a bit. The information is interesting, if anecdotal, and makes you want to seek out more of his films (Homicidal and Shanks, esepcially), so, mission accomplished in that regard. I don?t think I?ve ever seen someone?s life story told this quickly.
John Gholson
½
Excellent, entertaining documentary about one of the most interesting and unique filmmakers in film history.
Jason Coffman