Spookies
(1987)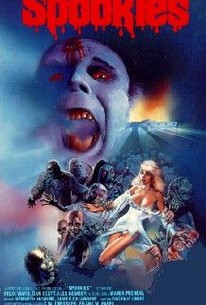 AUDIENCE SCORE
Critic Consensus: No consensus yet.
Movie Info
A group of curious kids get into big trouble when they decide to explore a ramshackle mansion in this horror movie. They believe that the place is empty but too soon they discover it is inhabited by a wicked sorcerer who uses black magic and human sacrifice to try and revive his comatose bride. He is very close to success and only needs a few more sacrifices. How convenient that the hapless teens should arrive at that moment. He sends out his zombies to welcome them and bring them back.
Critic Reviews for Spookies
Audience Reviews for Spookies
Strange and crazy but entertaining cult 80's horror featuring a plethora of enjoyably chessy monster make-up effects giving life to the likes of zombies, demons, giant spiders and other undescribable creatures. It's a stupid film no doubt, with a plot full of nonsense and a cast full of cannon fodder, but there's enough entertainment value to give any lover of bad low-budget horror a good nights viewing.
½
"Spookies" is a well-known title among the horror fans due to its copious creature effects.Set in a dilapidated and spooky mansion it features plenty of different monsters including farting mud-men,small reptilian demons,giant spiders,an arachnid woman,an octopus-like creature with electric tentacles,a skeletal witch,a Grim Reaper statue, a vampiric boy in a monk's habit and a large group of zombies.I must say that I was impressed by fantastic creature effects made by Gabe Bartalos,Arnold Gargulio,Jennifer Aspinal and John Dods."Spookies" along with "The Evil Dead","Return of the Living Dead" and "Demons" is an essence of low-budget 80's horror cinema.
Cassandra Maples
Super Reviewer
Spookies Quotes
There are no approved quotes yet for this movie.