Sputnik Fever (Sputnik Mania)
(2007)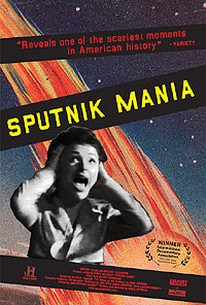 TOMATOMETER
AUDIENCE SCORE
Critic Consensus: Featuring riveting footage, Sputnik Mania is an informative, well-made piece that effectively captures the mood during the height of the Cold War.
Sputnik Fever (Sputnik Mania) Photos
Movie Info
Historians say that there have been three great shocks that brought America to its knees: The events of Pearl Harbor, 9/11 and the launch of Sputnik. Narrated by actor Liev Schreiber, "Sputnik Mania" reveals the dramatic and fast-moving story of what happened to America after the Soviet Union's launch of the world's first artificial satellite. Sputnik placed the U.S. and the USSR on a collision-course missile and space race. "Sputnik Mania" is a journey that chronicles how quickly the swing from Americans' initial thrill and awe turned to panic, fear and anxiety as leading politicians and the media whipped the public into an escalating mass frenzy. Perceived as evidence of an imminent attack by the Soviet Union, Sputnik not only created a deep fear among the American public, but also ushered in an era of remarkable educational, social and scientific developments with profound political and national-security implications for the United States and fascinating parallels to the present.
News & Interviews for Sputnik Fever (Sputnik Mania)
Critic Reviews for Sputnik Fever (Sputnik Mania)
Audience Reviews for Sputnik Fever (Sputnik Mania)
"Sputnik Mania" is a compelling documentary about the events following the launch of the first artificial satellite on October 4, 1957. It would have been significantly better if it had provided more information from the Soviet side of the equation, especially including up to the launch, which should have been possible considering the opening of the Russian archives. Talking to Nikita Khruschev's son is a nice touch, however. The documentary takes a different path than "The Right Stuff," showing the military buildup after everybody in the United States wet their pants at the possibility the Soviets could now launch missiles with nuclear warheads directly at America(And I'm sad at the people who I thought were smarter than this), instead of marveling at the human ingenuity it took to make Sputnik possible. This Cold War mentality would not lead to doomsday as thought possible since cooler heads like Khruschev and Eisenhower would prevail but to the horrors of Vietnam. On the plus side, this whole arms race would provide Stanley Kubrick with tons of material...
Sputnik Fever (Sputnik Mania) Quotes
There are no approved quotes yet for this movie.