Standing Tall (La Tête Haute)
(2016)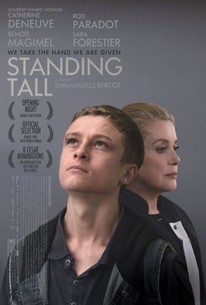 Standing Tall (La Tête Haute) Photos
Movie Info
Abandoned by his mother at the age of 6, Malony is constantly in and out of juvenile court. An adoptive family grows around this young delinquent: Florence, a children's magistrate nearing retirement, and Yann, a caseworker and himself the survivor of a very difficult childhood. Together they follow the boy's journey and try unfailingly to save him. Then Malony is sent to a stricter educational center, where he meets Tess, a very special young girl who will show him that there are reasons for hope.
News & Interviews for Standing Tall (La Tête Haute)
Critic Reviews for Standing Tall (La Tête Haute)
Audience Reviews for Standing Tall (La Tête Haute)
An idealistic but worthwhile piece about a juvenile delinquent growing up in the French justice system. Those who are interested in the issues of social justice will see past the romanticism of the story to many pertinent statements about what it takes to save a child like Malony. It justifies Deneuve's selection of the role of judge, and her performance lends the story much depth. Malony's mother teeters in drug-fuelled irresponsibility; the boy is a wildly dangerous driver of stolen cars; his anger, sexuality and violence are explosive. Repeatedly, he fails everyone. The film stresses the importance of love, especially maternal love. The judge gives him a long series of chances - to the point that you can think it really is going to be hopeless. The justice system is presented as caring. You see into the judge's long experience, how she makes her judgments, and her determination to help Malony and the many kids like him whom she sees. The other lead actors, the supporting cast and the finished product are all very fine too. Of course, only those on the inside can say how far all of this is an accurate snapshot of French juvenile justice, and how much it is making recommendations for reform. The film's sugary side will offend people and some in the audience were openly cynical; it also helps the character of Malony that his worst crimes against people (rather than property) are forgiven by the victims. Despite these cinematic devices though, which will send it to a wider audience than otherwise, the film is elevated by the performances to a determined statement about the need for properly funded, caring public interventions to support young parents and children at risk. Someone has to paint not only the faults, but also the possibilities and the vision.
Standing Tall (La Tête Haute) Quotes
There are no approved quotes yet for this movie.